🎇 Frightful Fourth Of July Night Fight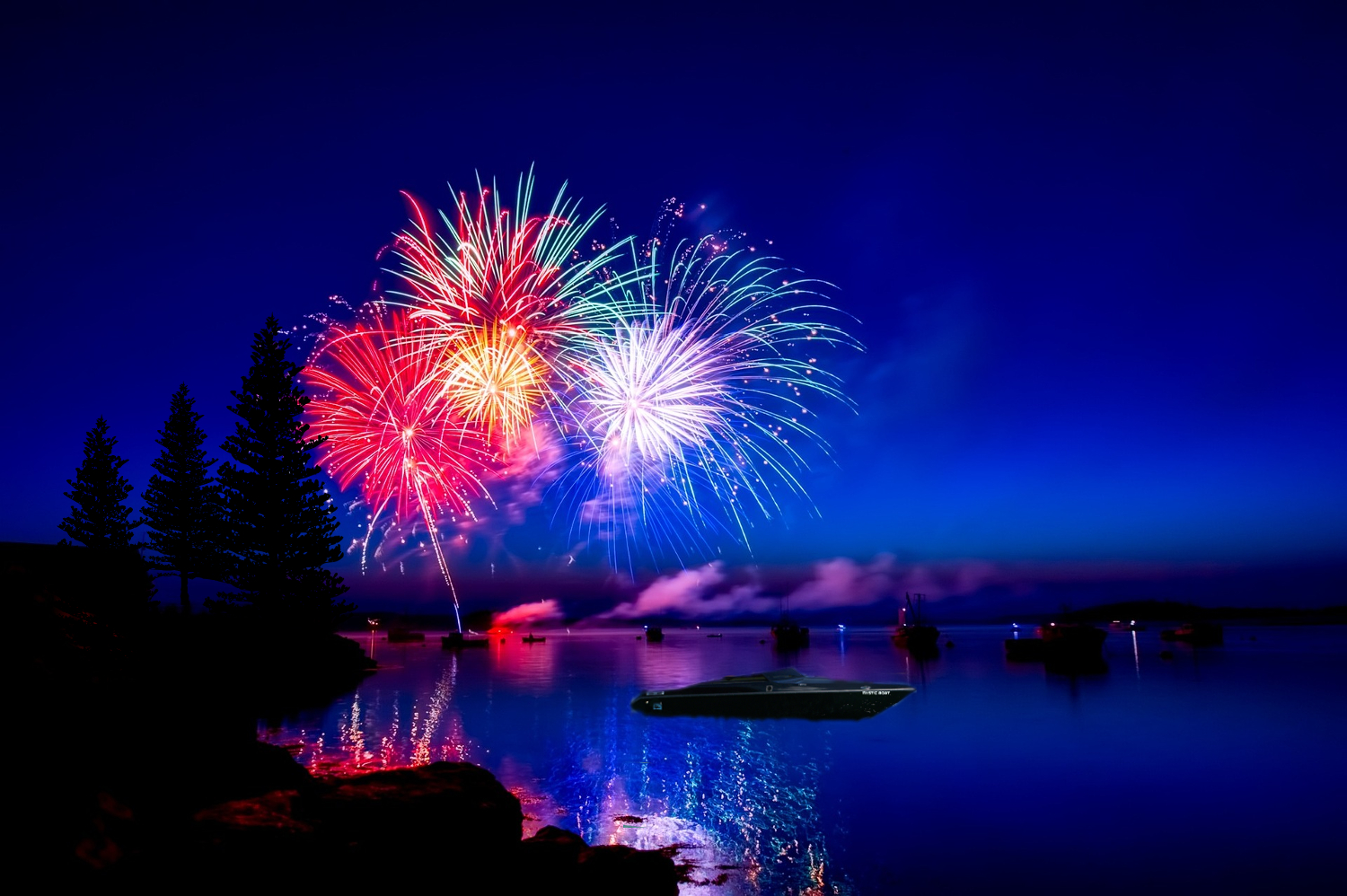 Unfortunately Evil never sleeps! Despite the Mystic Investigations Team having both July 3rd and July 4th off, we remain on alert! This is the case with every holiday. During times like Independence Day, the Human Collective Consciousness is far more active than usual. It creates a Holiday Spirit. The most famous of which is The Spirit Of Christmas. The metaphysical energy from this paranormal phenomenon is siphoned by an armada of supernatural creatures. Sometimes entities of evil partake of this free energy along with taking advantage of the chaotic crowds garnered by various holidays. These gargantuan gatherings of humans not only provide plentiful prey but also clandestine cover amid the mass movement and loud noise.
In my capacity as Mystic Investigations President, I lead a dynamic team of supernatural specialists who often plan to attend various events together. Not only due to our camaraderie but also for the purpose of protecting vulnerable crowds from any potential paranormal perplexities. We've all grown accustomed to relaxing and having fun while simultaneously remaining in a healthy mode of observant alert. We're always ready to pounce on the forces of darkness at a moment's notice!
Illumination Fades Into Darkness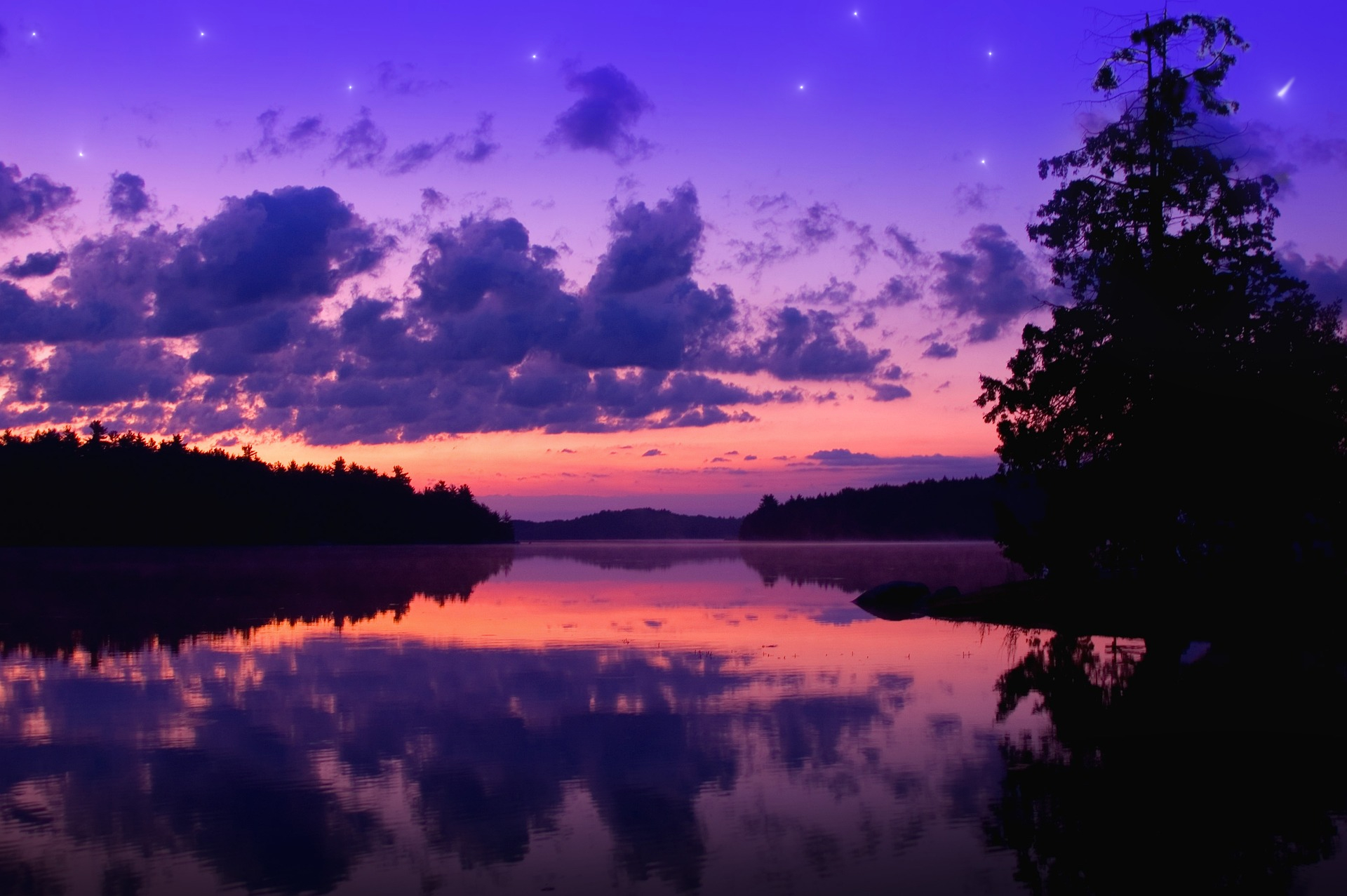 The serene sunset saturated the darkening skies over Luminary Lake with red, orange, gold, and violet colors. The vibrant hues reflected off the placid waters creating a deceptive mirror. Beneath the beauty of the surface, there are sometimes sinister supernatural organisms lurking in wait for their next meal! That's why we had our Mystic Boat out watching the wayward waters. It was manned by our Security Chief Ex-Navy Seal Hunter Jackson. With him was Elizabeth Weatherly who is one of our paranormal investigators. Ironically, she was saved from the 1912 Titanic Disaster through time travel to our future. She faced her fear of the water and now takes every opportunity to volunteer for boat duty when it arises. The rest of our team found our places at different positions among the citizens of Woodland Springs attending the shoreside Fourth Of July fireworks show. Everyone was on the lookout for nocturnal monsters who prey on vulnerable humans amid the chaotic cover of crowded loud events. First and foremost, Vampires!
Our righteous Executive Vice-President Drake Alexander is the best at detecting evil entities due to being a powerful 5th Generation Vampire. Despite most of his kind turning to the dark side because of their demonic DNA, Drake has always followed the path of light leading to knowledge and wisdom. Second, only to him is our Demi-Mermaid Witch and Senior VP Rebecca Abernathy whose keen senses allow her to detect the sinister sanguine suckers as well. Our telekinetic psychic Vice-President Julia Hathaway can sometimes sense the dark demonic minds of the average vampire. Other members of our team have their own ways of spotting vexing vamps. If all else fails hopefully a blood-curdling scream for help does the trick. Unfortunately, vampires love hypnotizing and lulling victims into quiet submission while sucking the very life out of them! You may have very well been mere feet away from a vampire at your own local Independence Day events! That amorous couple ignoring the fireworks show could have very well been someone in silent distress as they were victimized by a paranormal parasite!
The Fantastic Fireworks Commence
For the first time ever our community launched a choreographed lit drone show before the actual fireworks. Of course, the spectacular sunset was the ultimate pre-show courtesy of Mother Nature. Not long after the first blasts of explosive luminosity hit the freshly darkened skies we heard that tell-tale scream of terror. We all ran to a young woman who was being accosted by a deranged man behind some bushes. It turned out to be a…Zombie! Indeed, it was that one random zombie every community has staggering about. Often, they are mistaken for drunks in the darkness. Clearly, the booming blasts attracted the walking dead to the human-laden area. We wrestled the blasphemous beast to the ground with the aid of our Demi-Zombie Cryptozoologist Dr. Ashley Abercrombie. She diligently checked the woman for any bites that would spread the Zombie Virus. Thankfully, the woman had none and Drake hypnotized her to forget the traumatizing experience. After she walked away, we dragged the grunting zombie into the woods and dispatched him with extreme prejudice! Once he was buried in separate pieces we returned to the Independence Day festivities.
Vampire Infiltration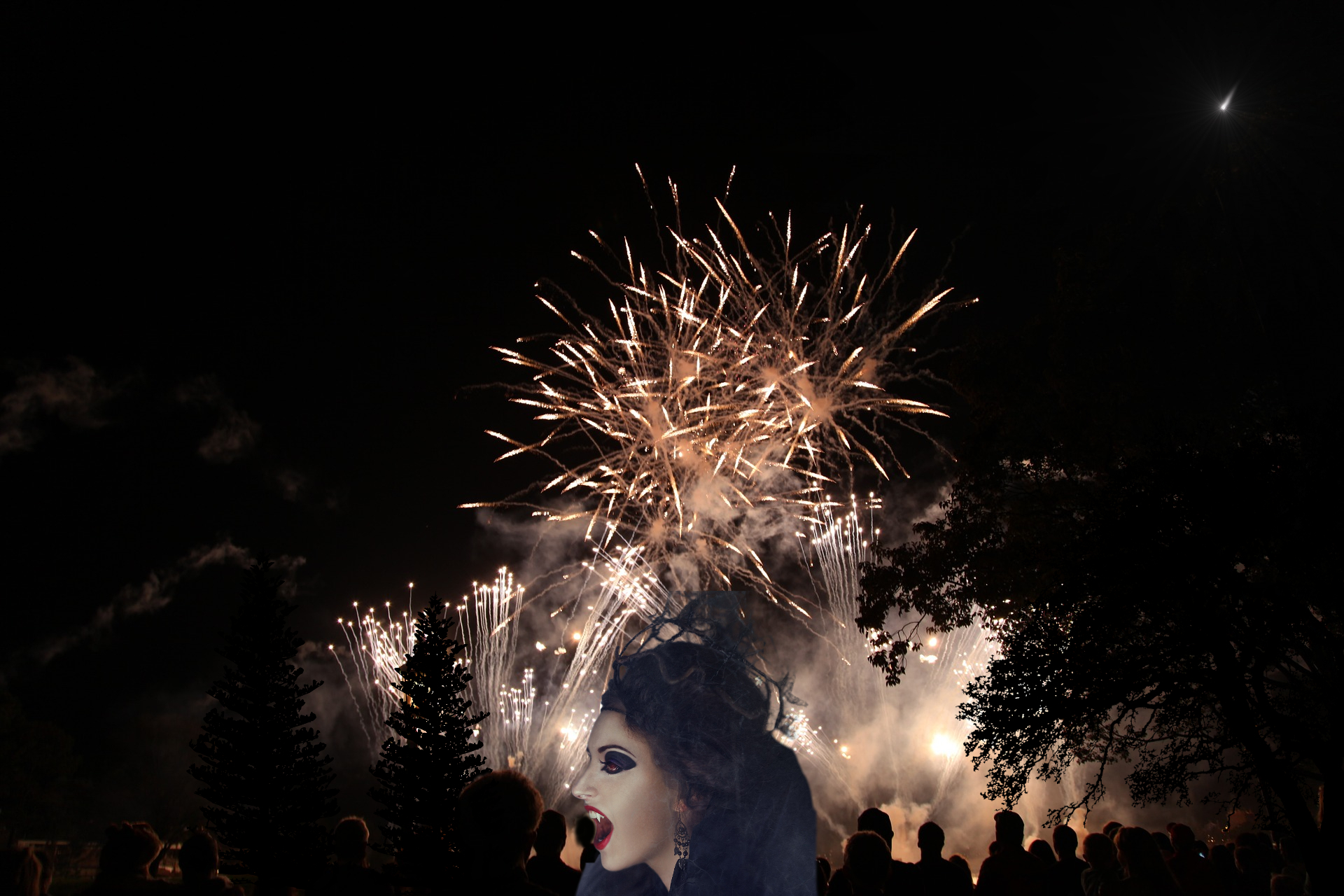 Once the spectacular sparkling show hit its stride Julia had a vision of trouble in the woods and she ran to the scene without informing any of us. This is often the case if she is by herself since the psychic visions can be very vivid and focused. I was near the back edge of the crowd when I noticed a woman hugging a man from behind. I thought they were a happy couple until I saw her cover his mouth and pull his head back. Then she tilted her head into his neck. As I got closer I could see blood dripping down the man's neck. At that moment the female shot her head around to reveal bloody fangs and glowing crimson eyes. I whipped out my holy water squirt gun and shot her multiple times. She screamed out in agony as wisps of grey vapor rose from her burning skin. The strikingly beautiful vampiress shrieked away into the woods while the man passed out from blood loss and fell to the ground.
I immediately contacted the team on our personal communication devices. I saw Drake and Rebecca speed into the dark forest after the vampiress. Ashley arrived with a medical kit and some people started to notice the collapsed man. I said he had passed out from low blood sugar and fallen on some broken glass cutting his neck. Ashley bandaged the man's neck as he started to wake up. He muttered, "Where is that lovely Goddess?" He was clearly delusional within the vampire's thrall. It usually lasts for a few hours after a vampire hypnotizes a human. Ashley and Ghost Buster Rob Edmunds took the man to the hospital in the Mystic Van. They would utilize our friend Sheriff Blake Maverick to cover up the incident. The man got a blood transfusion and made a full recovery. Although he keeps showing up at our offices inquiring about the "Goddess". We always tell him it was a delusion caused by the PCP someone slipped in his drink. In fact, that is the story the Sheriff told the man. He even got a lab worker at the hospital to verify it. A lot of supernatural things are explained away with drugs or insanity.
Regretfully, the vampire got away as she was far faster than both Drake and Rebecca! However, in the distance ahead of them they could hear her yell, "You'll pay dearly for this very soon!" Drake caught her scent and said she was beyond ancient and therefore very powerful. Plausibly a 2nd generation vampire as opposed to Drake's 5th generation status. Incidentally, the infamous Dracula is a 2nd Generation Vamp. Many centuries ago Drake spent some hellish years in Dracula's custody and was helpless to resist his hypnosis thus causing him to perform immoral acts! It was during Drake's notorious high-seas pirate days. Had they attempted to capture the female vampire things could have turned frighteningly fatal for the duo!
Normally, I'd say the vampiress would never return now knowing there are paranormal professionals in this area. There's a whole world of helpless victims out there and most vampires go for the easy quality blood fix. Unfortunately, when a powerful vampire makes a threat we take it seriously! If she was second generation then she's a royal vampire with powerful connections. Interestingly enough, Normal holy water would probably only annoy such an ancient vampire but I used the water of melted North Pole City snow blessed by Saint Nicholas himself. Plus I added the potent anti-vampire herb vervain along with colloidal silver[Ad]. There's no such thing as paranoid paranormal overkill in the battle against supernatural darkness!
Julia The Vampire Slayer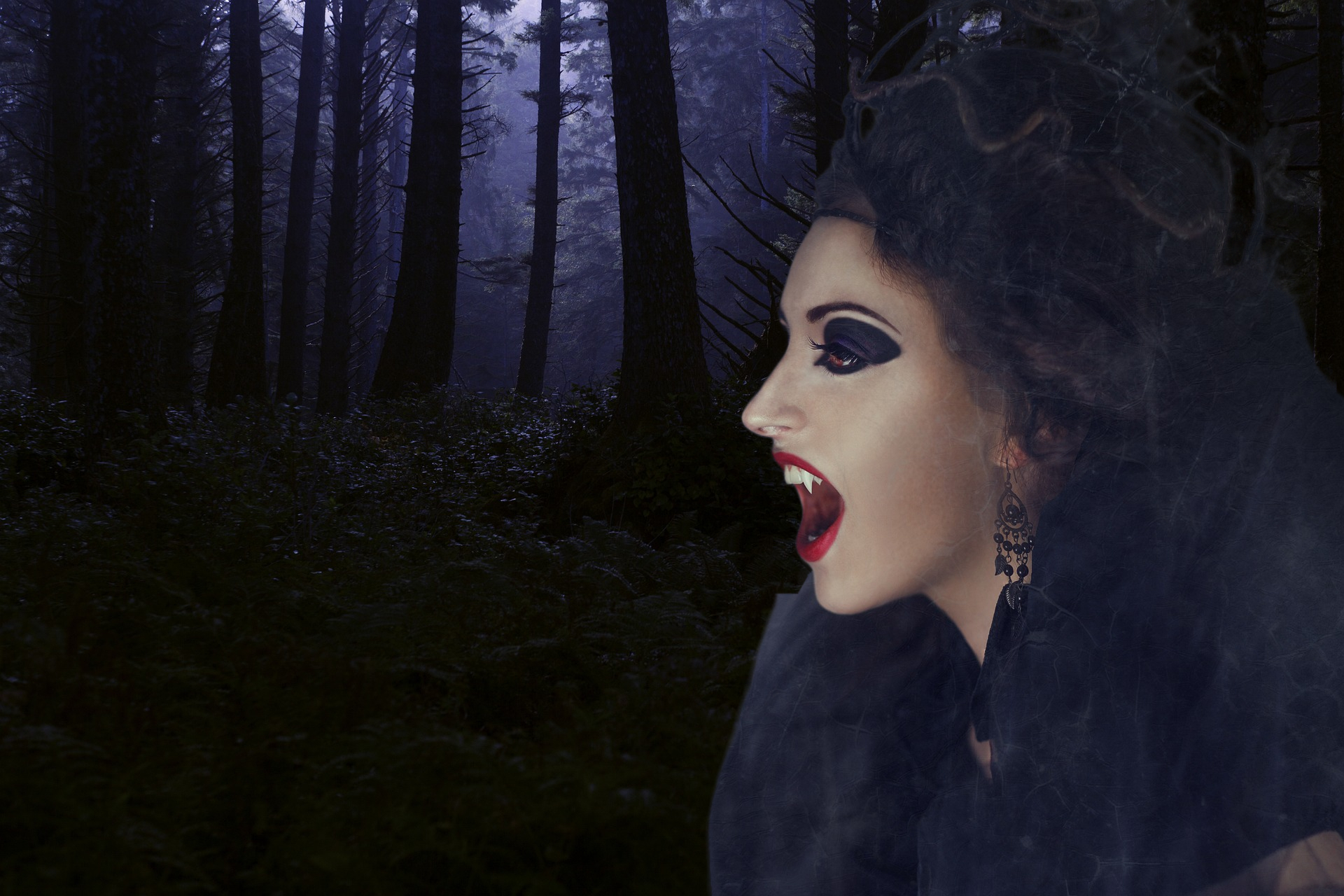 Julia Hathaway made it to a clearing in the forest where a couple was camping. They were lying together in the dark enjoying the stars and the larger fireworks they could see being a distance from the lake. Julia hid in wait as this was where her vision led her. The couple began getting amorous when the female vampire shot out of nowhere. She whispered to herself, "I need my sweet blood to heal from this infernal holy water!" The vampire eyed the couple with lust and then announced herself to the shocked duo. "I'll be joining you this evening for dinner!" The man replied, "Ah what?" That's when she extended her fangs and growled with eyes glowing a raging red!
The vexing vampire lunged at the terrified screaming couple but Julia directed her telekinetic powers at the vampire sending her flying through a tree trunk. As the tree fell over hitting the ground Julia told the couple to run away. They bolted and the amused vampire got up and sarcastically said, "Oh you have powers! How special for you and me!" Julia replied, "Why is it special for…" Before she could finish her sentence the vampire shot at her beyond super fast! The ferocious female bit into Julia's neck drinking her power-rich blood. In doing so It would give the vampire her powers for several hours. All vamps can acquire the temporary talents of any entity if they simply consume their blood. Even human talents such as playing a musical instrument, knowing multiple languages, or being good at sports.
Unfortunately for the foolish vampire, Julia had a vampire killing stake hidden in her hand the entire time. A very special one designed by a top-flight vampire slayer who owed Mystic Investigations a favor. It was composed of hickory wood from a tree struck by the very lightning of the King God Zeus. Infused within the wood are slivers of silver and gold given by a Lucky Leprechaun. The super stake has also been blessed in holy water by Saint Nicholas himself! Santa Claus even went so far as to donate some drops of his Angelic blood to coat the stake with. Angel blood is beyond blessed and toxic to vampires. The stake was designed to destroy First Generation Vampires and even seriously slow down Demi-Demons!
At the second before the vampires reached Julia she had raised the stake in her hand. The vampire ran right into it! In fact, it pierced her dark heart and she lit ablaze in violet unholy fire. Her ear-piercing shriek shattered a glass jar at the campsite. Julia pushed the flaming vampire away burning her hands as she stop, dropped, and rolled to put out the fire that spread to her clothing. The vampire once again made a threat within her final agonizing scream, "You'll all pay dearly!" She burst into unholy gray ash that wafted through the air and eventually settled upon the ground. We're still taking that threat seriously even if it appears she'll never exist in physical form upon this sainted Earth ever again! Julia lost her communications device and naturally, her smartphone couldn't get a signal so she headed further into the woods that were a part of The Mystical Forest. She planned to locate the holy healing wellspring in an area frequented by Nymphs and Fairies. Indeed she healed her burns and returned to Mystic Investigations Headquarters later that night. The next day we collected as much of the vampire ash as we could since it can be used in various mystical spells and potions. Read The Rest Of The Supernatural Story…🧛‍♀️
As an Amazon Associate we earn from qualifying purchases.