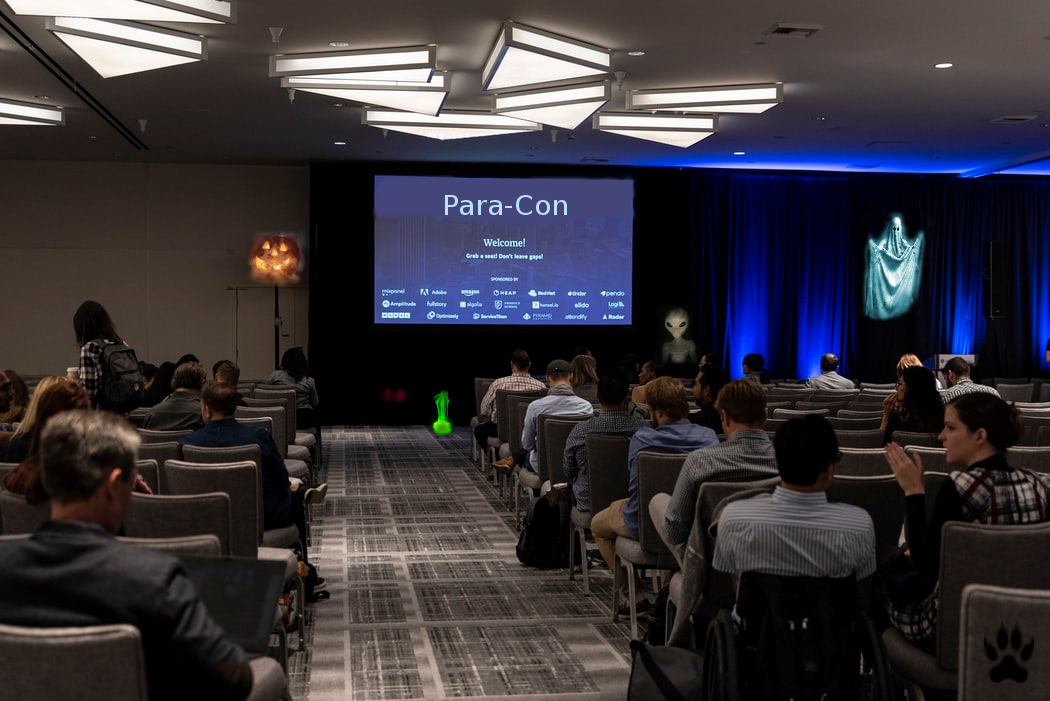 The Paranormal Investigators Conference, also known as Para-Con, is a series of annual meetings among Paranormal Professionals from around the world.  Para-Con includes seminars, and demonstrations of the latest technology, and techniques in the world of supernatural investigative research, and the battles waged against the forces of metaphysical darkness. Para-Con is organized by the International Para-Con Committee of 12 along with sub-committee's in various continents, and nations around the world.  Mystic Investigations Executive VP Drake Alexander sits on the International Committee while President Xavier Remington resides on the North American committee.  Senior Vice-President Rebecca Abernathy is on the US committee.
In the past there were a number of fakes conducting seminars, and demonstrations. Thankfully a new process has verified members are real paranormal investigators dealing with true forces of supernatural evil thereby refining the authenticity of Para-Con.  However there are still outsiders of the supernatural community present since the conference isn't private (although the location is not publicly advertised).  Therefore the Supernatural Secrecy Pact is still in play.  In other words no actual solid proof of the paranormal can be shown in the main convention area, or at least it's made to look fake so as not to be convincing. True paranormal investigators know what is real, and what is not.  There are private closed door conferences for carefully vetted members of the supernatural community. In recent years PARA-CON has been gradually moving to being much more hidden and secretive as the potential for evil operatives grows ever greater in the face of impending Armageddon.
 These are the annual conferences around the world:
International Para-Con
Continental Para-Con's: North American, South American, Australian, African, Asian, and European Para-Con.
National Para-Cons Include: United States, Canada, Mexico, Great Britain, Australia, and over half the nations on Earth.
In addition some US States, and Provinces of other nations may have unofficial Para-Cons.  Even large cities might have their own annual events.
List Of Paranormal Investigator Conferences Mystic Investigations Will Attend
2021 International Para-Con (Eight Annual): Saint-Pierre, Martinique | February 14-21, 2021
2021 North American Para-Con: TBA
2021 

Colorado

Para-Con: TBA
2021 US Para-Con: TBA
2022 International Para-Con (Ninth Annual): Geneva, Switzerland | TBA
Partial List Of Paranormal Investigator Conferences Mystic Investigations Previously Attended
2014 International Para-Con (First Annual): Paris, France February 14-21, 2014
2014 Colorado Para-Con: Denver, Colorado July 12-13, 2014
2014 US Para-Con: Hollywood, California November 6-10, 2014
2015 North American Para-Con: Thunder Bay, Ontario, Canada April 23-27, 2015
2015 Colorado Para-Con: Denver, Colorado July 11-12, 2015
2015 US Para-Con: Anchorage, Alaska November 5-9, 2015
2016 International Para-Con (

Third

Annual): Dublin, Ireland February 17-24, 2016
2016 North American Para-Con:

Disney

World, Orlando, Florida April 27-May 1, 2016
2016

Colorado

Para-Con: Aspen, Colorado July 9-10, 2016
2016 US Para-Con: Washington DC November 4-8, 2016
2017 International Para-Con (

Fourth

 Annual): Sydney, Australia February 22-March 1, 2017
2017 North American Para-Con:

George Town, Cayman Islands

 April 27-May 1, 2017
2017 

Colorado

Para-Con: Colorado Springs, Colorado July 8-9, 2017
2017 US Para-Con: Stateline, Nevada (Lake Tahoe) November 3-7, 2017
2018 North American Para-Con:

San Jose, Costa Rica

 April 26-April 30, 2018
2018 

Colorado

Para-Con: Woodland Springs, Colorado July 7-8, 2018
2018 US Para-Con: New York, New York November 9-13, 2018
2019 International Para-Con (Sixth Annual): Tokyo, Japan February 18-25, 2019
2019 North American Para-Con: Bermuda April 25-29, 2019
2019 

Colorado

Para-Con: Boulder, Colorado July 13-14, 2019
2019 US Para-Con: Louisville, Kentucky November 8-12, 2019
2020 International Para-Con (Seventh Annual): Buenos Aires, Argentina | February 17-24, 2020
2020 North American Para-Con: Vancouver, British Columbia, Canada | April 23-27, 2020
2020 

Colorado

Para-Con: Grand Junction, Colorado | July 11-12, 2020
2020 US Para-Con: Nashville, Tennessee | November 6-10, 2020
Generally our office is closed during Para-Con although we may have a skeleton staff providing assistance.  In addition our team can still answer questions via our website.  Mystic Investigations events related to Para-Con.