🦃Happy Thanksgiving From Everyone Here At Mystic Investigations! Below Are Thanksgiving Related Stories From The Other Blogs On Our Website:
What Did The Demi-Angel Santa Claus Do On Thanksgiving Day?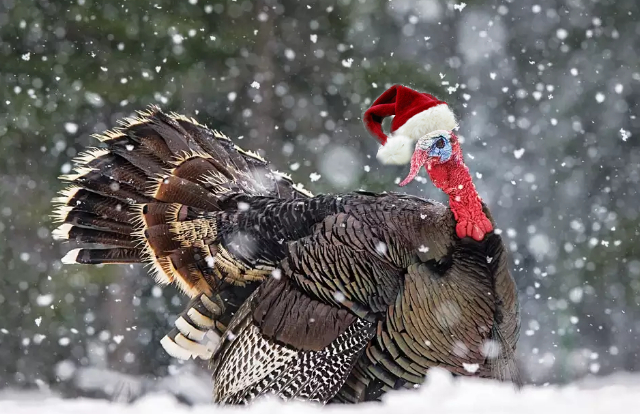 On Thanksgiving morning Santa Claus makes an appearance at the Macy's Thanksgiving Day Parade. For the record that theoretically isn't really him on the parade float as he must adhere to the Supernatural Secrecy Pact. Although who is to say he doesn't set forth a Glamour and actually ride in the sleigh? Instead, he meets with various important members of the paranormal world in a secret room at Macy's. These people usually bring their kids who gleefully tell Santa what they want for Christmas. There is a discussion of his Christmas plans, the general state of the supernatural world, and various threats from the forces of darkness including the nefarious Anti-Claus! Santa then mills about the New York City crowds incognito while enjoying the parade with Mrs. Claus and his children Nick and Mary. He has also been known to pose as a mall Santa for a few hours to hear what random kids want for Christmas. Read The Rest, Including The North Pole City Turkey Pardon, On Our Christmas Blog…🎅
Thanksgiving Is The Last Day To Take Down Your Halloween Decor!
In order to avoid the specter of bad luck that surrounds those obsessing over a particular holiday one must remove their Halloween decorations by a certain date. That date is Thanksgiving for reasons not fully understood. Plausibly it could center around the human collective consciousness making Thanksgiving a transitional holiday between Halloween and Christmas. There are two exceptions to this rule. One is if you truly have the Spirit Of Halloween infused within your very soul. You have dedicated your life to the Halloween cause of bringing balance between the forces of light, and darkness. In such rare cases, you may hang up Halloween decor forever.  Keep in mind there is a big difference between being obsessed and having the blessing of the Halloween Spirit! Also Thanksgiving is the last day to eat or give away your Trick-O-Treat Candy! Read The Rest On Our Halloween Blog…🎃
🖱️Also, See Thanksgiving 2012…

As an Amazon Associate we earn from qualifying purchases.