What Is The Jason Voorhees Cult

Virtually every supernatural being and even some famous humans have their own cults. Crazed sycophants hyper-obsessed with a given person to the point of worshiping them like a God. Often these misguided individuals are weak minded mentally ill individuals with no real purpose in life. They wander through life aimlessly until they become obsessed with one willing person who they pin all their hopes and dreams on. These like minded loons get together under the convincing banner of a charismatic leader and you have a full-fledged cult. From there their mission may be harmless but sometimes the need to please their adopted God can turn downright dangerous! The Cult Of the infamous living dead serial killer Jason Voorhees is one such organization of evil! Although in this case the mute masked Jason isn't technically the leader of this crazy cult.
The Inception Of The Jason Voorhees Cult
The Voorhees Cult, or The Voorheesian's as they often call themselves, technically came into existence on Friday, May 13, 1966, when a 13-year-old Jason Voorhees drowned in Crystal Lake. As a deformed mentally retarded child he was not well received by the other kids nor most of the staff at Camp Crystal Lake. He endured great cruelty and bullying despite his mother working as a cook at the summer camp. Due to her son's special needs, she was unable to find someone to watch him so she had no choice but to bring him to work. Naturally, she couldn't have him sitting around the kitchen all day and he was left to his own devices.
Jason's Only Friend Second Only To His Mother
A gifted 14-year-old hereditary Witch named Secilia was the only one who befriended Jason. She saw past his horrifying appearance and seemingly slow intellect. They had something in common since her excessive weight made her an outcast with the kids at the camp. She had visions and dreams of Jason's future. She knew even then he was a Dark Lord trapped in a pathetic human form. She tried various rituals and spells to help him but nothing worked under her limited experience. On that fateful Friday The 13th when Jason drowned she had been attending witchcraft lessons. She had a vision his death and rushed to the summer camp but it was too late. Secilia realized his death was meant to be as was his inevitable resurrection from the metaphysically cleansing waters of Crystal Lake.
The First Resurrection Of Jason Voorhees
As a hereditary witch, Secilia's family had collected various texts over the centuries including one of the powerful Grimoire's known as the Book Of The Dead.  The specific text was the nefarious Necronomicon Ex Mortis!  Her family had fallen from the dark side over the past 100 years so the dangerous Grimoire was locked away. Secilia, however, was born with a darkness she yearned to access. It's suspected that possibly the Demon Xycoticis influenced her unknowingly despite never contacting her directly. This is the demon who immediately showed an interest in Jason's dark anguished spirit that also had a unique child like innocence. After his death as he walked the Earth as a confused ghost lost in the trauma of his life and death.
Secilia stole away the Necronomicon Ex Mortis in the hopes of bringing Jason back to life in a supernatural form. She failed countless times until the demon took action at the perfect paranormal power time along with using Secilia's Book Of Dead ritual as an anchor to our physical world. On November 13, 1970, Jason was resurrected for the first time by having his spirit channeled into a freshly dead adult human corpse. It was the body of an unfortunate soul born on Friday The 13th.
The Malevolent Misguided Mission Of The Crazed Cult
Secilia shadowed Jason's movement for years helping him where she could but she was eventually driven away by the forces of magical righteousness.  After losing a great deal of weight she became a charismatic cult leader who recruited dark minded individuals such as herself.  Fellow witches, warlocks, and also useful idiots. The highest ranking of these fools are members born on Friday The 13th. The so-called "Chosen Ones". They are eager to be future vessels for Jason's dark spirit when he inevitably rots too much of his zombie-like physique or finds himself slain by supernatural warriors once again. The Voorheesian's view those who oppose them and work to kill Jason as "Sinners". Clearly, their vision of reality is skewed to thinking that evil is good, and good is evil.  Oddly enough the closest thing to good in the cult are the vows of celibacy usually only seen by seriously devout religious individuals. And they are deeply serious about it! If they catch another member doing anything unsavory they will not hesitate to tie them up until Jason pays a visit! Only Jason is allowed to kill unless a cult member has no choice if it's self-defense.
Their ultimate mission is to raise Jason to Godhood status and cleanse the world of hormonal humans who refuse to cease their vile sexual acts and mindless procreation. Cult members often lead Jason to the fresh lust filled prey that he relishes in exterminating! Especially older teens and twenty-somethings hot and heavy into the carnal acts. This stems from the lifeguards at Crystal Lake having sex rather than watching the water that he drown in. There's also a sub-consciousness jealously of not ever having a normal life that allowed him to engage in such activities. Apparently, if they ever manage to commit their global genocide dreams they assume they will become immortal and have no need for kids.
Secilia met her end as the Voorhees Cult Leader on Friday, August 13, 1999, when The Ten Gallon Hat Metanatural's killed Jason, and exorcised his sponsor demon Deathcilius into oblivion!  She attempted to save Jason's life but was taken into supernatural custody, and thrown into a private prison at a secret location deep underground.  She hasn't been heard from since then as the Cult continues searching for her. However, when in deep meditation some members can hear her speaking in their minds just as they sometimes see Jason's sinister thoughts.
The Voorhees Cult believes the birth of Jason was destiny, and it's up to them to aid his ascension to a diabolical deity status.  They consider Jason's supernatural state to be the equivalent of the Christ child, or probably more exactly the Anti-Christ child!  However, it's their opinion that opposing forces are keeping Jason from rising to his fully Godly glory. Namely the people who end up slaying him back to spirit status.  They also blame Jason's Father Elias Voorhees for beating Jason's Mother, Pamela Voorhees, during her pregnancy with Jason. This, in turn, caused her to turn to the bottle for solace.  The booze, and beatings, while Jason was still in the womb, is what caused his sorry physical, and mental state thereby deeply dulling the Voorhees Cult's glorious future God.
The crazed Cult even blames the Devil, and most demons in general for not fully supporting Jason, and aiding in his resurrection efforts once the demon Deathcilius was gone. I guess they don't see the potential in Jason that the cult does. It seems the Devil only finds him "Somewhat Amusing" and was embarrassed by Deathcilius's exorcism. Instead, the Voorheesian's continue to browse Dark Gods as potential paranormal sponsors who will finally recognize Jason's inner glory. They look at each of his kills as a sacrifice to a future deity. They even store part of the souls of Jason's victims in special crystals. Emerald crystals of dark luck gifted to them by a Clurichaun (Dark Leprechaun) sympathetic to their Voorhees cause. The very crystals they use in their resurrection rituals and the ones they hope to present to a Dark God willing to play ball.
On Friday, November 13th, 2015 the Voorhees Cult managed to resurrect their God in an elaborate mystical ritual. Since then Jason Voorhees has crossed the country bathing in the blood of those he's mercilessly murdered in cold blood! Many supernatural crime-fighting teams, such as Mystic Investigations, have attempted to apprehend, and terminate him. Unfortunately, he has been quite elusive with the support of his faithful Cult!
Since his restoration, Jason has made finding the Dark Witch Secilia a top priority second only to supplying him with fresh meat! In her absence, the High Priest Necromancer Julius manages the cult. As a loyal disciple of Jason and Secilia he has been a force to be reckoned with for those of us in the paranormal community looking to take Jason down. He works tirelessly in the hopes of giving Jason permanent immortality in a non-rotting body leading to his prophesied ascension to Dark Godhood. We can only hope this insanity never comes to pass!
If you were born on Friday The 13th you may be a target of the cult. If approached by them don't fall for their blasphemous bull! Don't believe the promises they make you. It's all lies! Even if you never hear from them they could be watching you! Always be on extra high alert on every Friday The 13th!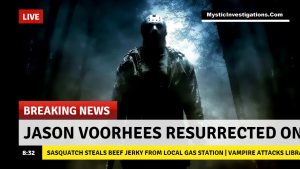 As an Amazon Associate we earn from qualifying purchases.