A Deranged Nut And Zombie Attack Rounded Out Our Friday!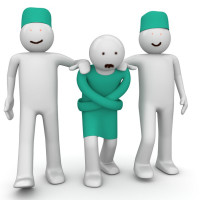 It was about 2:15 PM Friday afternoon at Mystic Investigations headquarters as we went about our supernatural business. Everyone was looking forward to the fun filled weekend! Except those of us who choose to sacrifice our personal time to patrol the community, and rid it of any metaphysical menaces. Most of our executives were out on paranormal investigations including our most powerful team members that included a Demi-Mermaid Witch, a telekinetic psychic, a human form werewolf, and an Ex-Navy Seal. Our vampire Executive VP was working from home. All was quiet, the way I like it, when all the sudden a crazy chubby guy bursts into our sunny lobby. He was sweating profusely even though he was wearing a rather thin Batman t-shirt, and plaid shorts.  The weirdo was on his cell phone screaming about not wanting to be committed to the funny farm.  Our receptionist Barb Gerber was frozen in fear as he came flying at her with a wild look in his deranged eyes. He bellowed,"Somebody help me! They're after me! I don't want to go to the looney bin!"  He was so loud that most of us working upstairs heard the commotion.  As President of Mystic Investigations I immediately sprung into action, and bolted from my office to the 2nd floor balcony looking down into the lobby. The rest of the employees upstairs came running up behind me. Read The Rest On Our Supernatural Stories Blog…
As an Amazon Associate we earn from qualifying purchases.