Metaphysical Mayhem At Manhattanhenge For Memorial Day!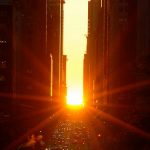 Manhattanhenge, otherwise known as the Mystical Manhattan Solstice, is the biannual alignment of the setting sun with the street grid of the famous New York City borough.  As sunset approaches on Sunday May 29th at 8:12 PM (EST) the glaring glory of  half the holy sun will glitter down the wonderous walls of skyscrapers illuminating everything in it's path.  That includes foolish vampires who think it's safe to come out, and are blinded by solar death rays instantly turning them into unholy ash! On Memorial Day Monday May 30th at 8:12 PM (EST) a full sun will be seen dipping below the horizon exuding an illustrious iridescence for New Yorkers. Read The Rest Of This Paranormal Activity Forecast…
As an Amazon Associate we earn from qualifying purchases.