What Does Santa Claus Do On New Year's Day?
The Christmas Season continues with New Year's Day! After various late-night New Year's Eve parties around North Pole City, the delightful day didn't get started until many awoke at 10 AM to find a gift under their Christmas trees. These are the New Year's gifts delivered by Elves on New Year's Eve amid the fun festivities. The gifts are handmade by the Elves up to a year in advance to be distributed on New Year's Day in the spirit of renewal and hope. At 11 AM brunch is served at Claus Manor for everyone! It's tradition for all within the sainted city to cross the Claus Family threshold for righteous luck. Naturally, Santa's house isn't big enough to accommodate everyone so he utilizes angelic geometric magic to temporarily make his home four-dimensional. Much like his 4-D gift bag that holds millions of presents for Christmas Eve delivery. The Claus dining room appeared to extend to infinity until everyone had their fill of food and left. At Noon Santa Claus gave an inspirational speech about starting the year anew and holding strong to your New Year's resolutions.
Afterward, everyone wrote down their resolutions or wishes for 2023 and cast them with good intentions into the Wishing Well. The good luck well was built by Leprechauns hundreds of years ago and the water within actually connects to Ireland via a paranormal portal. Waiting at the well were several visiting Leprechauns who passed out light luck charms to bring about fantastic fortune throughout the year. Next came the annual Polar Bear Plunge into the ice-cold North Pole Port. This included Santa Claus and his elves. Not to mention the actual polar bears swimming among penguins in peace.
The Arrival Of The Baby New Year
At 3:00 PM Father Time, the Baby New Year of 2022, performs the annual ceremonial ritual of presenting the latest Baby New Year to Santa Claus at St. Nickolaus's Holy Church Of The Northern Light. On January 1, 2023, Santa, in his capacity as Saint Nicholas, blessed the child of renewed hope holy. A holy child that is literally an Angel from Heaven who volunteers to grow up on Earth for one year! Santa lovingly held the Baby New Year 2023 in his muscular arms as his wife, Holly Claus, looked on with merry warmth in her sparkling eyes. She also gently snuggled the angelic child and fed him a warm bottle of consecrated Unicorn milk. Santa's children, Nick, Jr., and Mary were present as well to witness the baby that is the very embodiment of humankind's hopes and dreams for 2023.  All in attendance took turns holding the cuddly little ball of joy. All while Father Time & Father Christmas discussed various matters related to our paranormal planet. Amid the activity, the world's few immortal dogs, a Dalmatian named Sparky, frolicked about Claus Manor with tail-wagging glee.🐶
The North Pole City New Year's Parade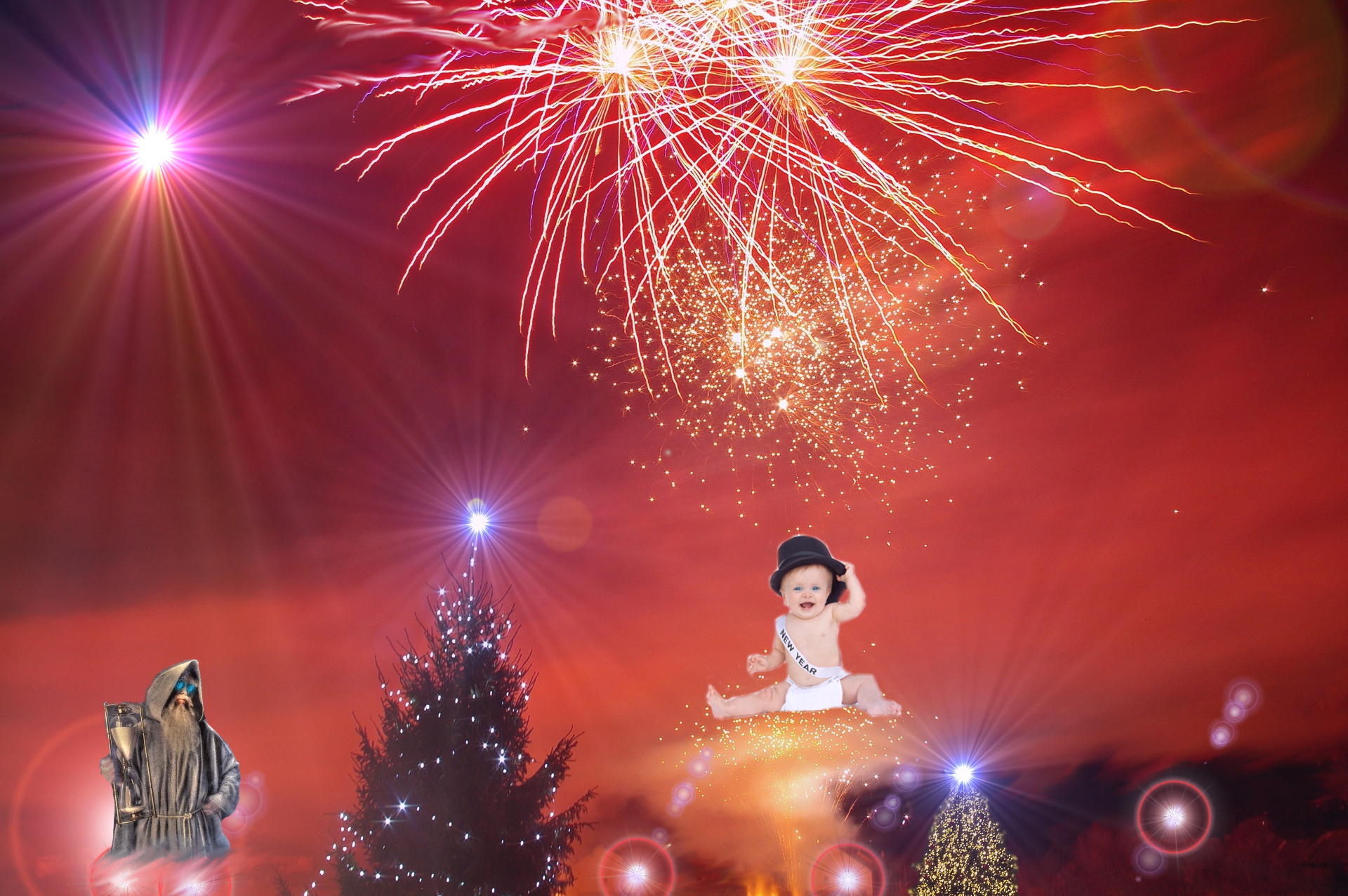 After a light late lunch, the entire gang of goodness commanded a procession down Main Street inside Santa's sleigh. The famous sleigh was moved aloft on the snowy cobblestone road by two reindeer.  A crowd of Elves, Enchanted Reindeer, winter deities, and visiting supernatural dignitaries looked on at the surreal spectacle. A full-scale parade took place that included elf-made floats, marching penguins, and other animals as well. Many of the visiting children from the paranormal world took part in the parade showing off their various psychokinetic powers and magical abilities. Santa's coven of sacred Enochian Angel magic witches performed various acts of metaphysical wonder for astounded onlookers. We also saw a variety of animated toys make their way down the street dancing with joy in their sapient hearts. All courtesy of the powerful Spirit Of Christmas!

Later in the evening a fantastical fireworks show lit up the Arctic skies above the most magical place on Earth. Santa even threw in some custom-created Northern Lights via his Demi-Angel magic. Amid the majestic extravaganza enchanted reindeer, Pegasus, white doves, various other birds, and even an ice dragon flew about the alluring atmosphere. Unicorns and Leprechauns sprung inexplicable nocturnal rainbows forth and rode them high in the starry skies! Sorry, Disney World but you come in second compared to the mystical North Pole City.🎇
The New Years Banquet
After the supernatural show, the Grand Banquet Hall hosted a massive meal of merriment! At a special table in an adjacent room, The Clauses, Chief Elf, and some select guests partook of a fabulous feast with the Angelic Father Time. The meal was composed of Manna from Heaven! Apparently it snows the Angelic food around the Baby New Year once a day to act as his ideal food. Far more falls than the child needs so molding it into unique meals for many was no problem. The Baby New Year sat in a centuries-old wooden high chair next to ultra-special guests Mother Nature and Old Woman Winter. Santa, Father Time, and the special supernatural guests discussed serious issues facing the Earth in the coming year. That of course included the dark forces looking to take over the Earth in the future War Of Armageddon. It wasn't long before the Elves and some kids put on a play detailing the history of Christmas and New Year's over the past 1000 years. Finally, Father Time and the Baby bid all farewell and disappeared into the night in a dazzling display of sparkling dust.✨
The New Year's Day Bedtime Gift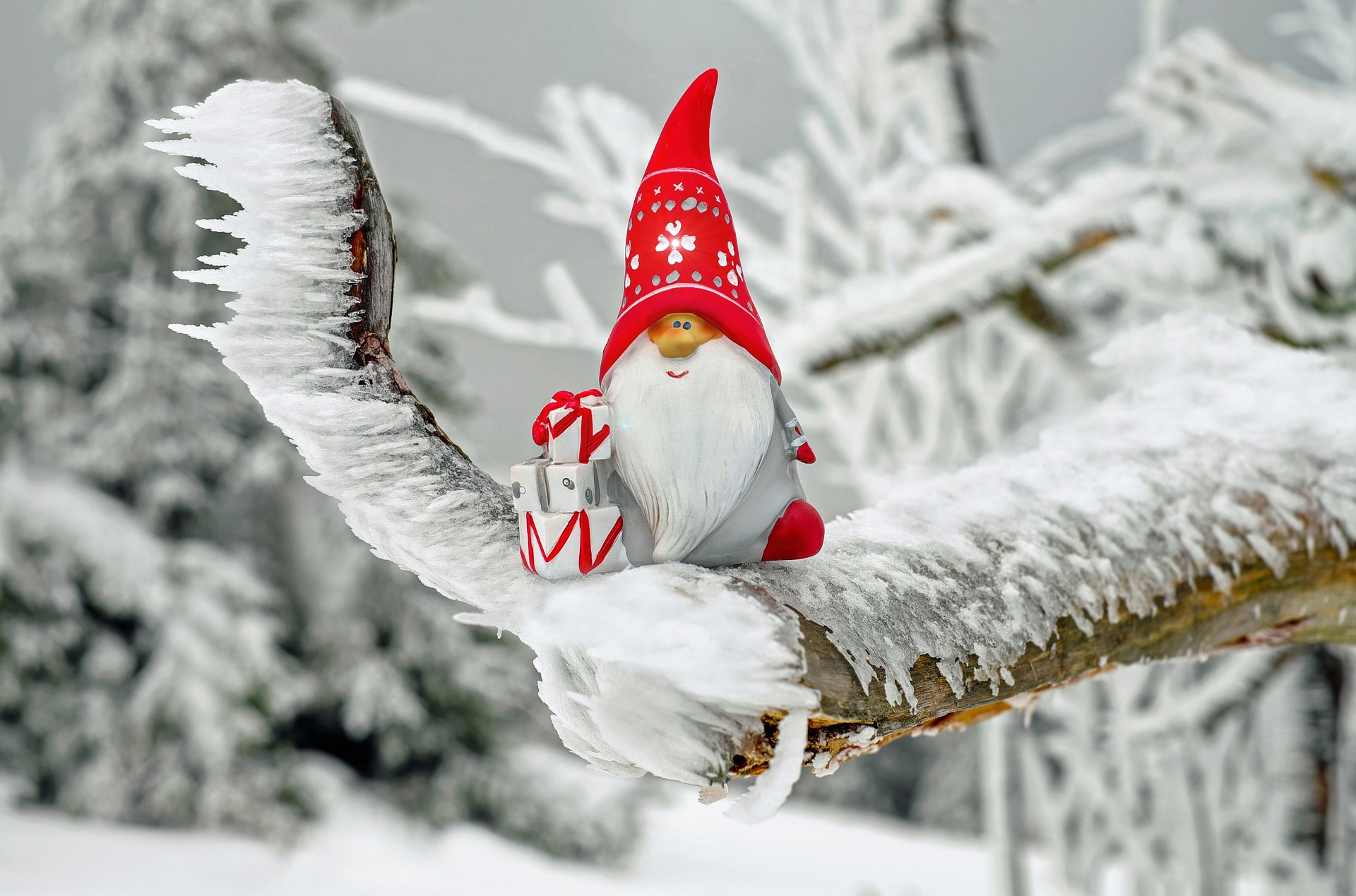 When everyone returns to their bedrooms to fall asleep after the fantastical festivities, they find a small gift on their pillows. It's a hallowed tradition at North Pole City for Snow Sprites to leave small New Year's gifts on everyone's bed. In addition to the gifts, the translucent and white sparkling snowy crystals on the bed indicate they were there. Snow Sprites are minute creatures that make Elves look like giants in comparison. As Winter Deities they technically work under Jack Frost, Winter Goddesses, Nymphs, and Fairies. They have trained with Santa's Elves in the art of crafting gifts and delivering them with speedy precision. The little magical fellas are compelled to give gifts out via the influence of The Christmas, New Year, and Winter Spirits. The gifts themselves are spelled magically by Sugar Plum Fairies to send everyone into the sweetest slumber of their lives. A deep sleep of delightful dreams to start the New Year off right. As if the dream sleep at North Pole City wasn't already beyond pure pleasure! Within those dreams, they deeply connect with the Spirits and gain an inner peace like no other as they awake on January 2nd! This is the parting gift to those visitors leaving the winter wonderland to return to the real world and face the good fight to protect humankind from supernatural darkness!😴