Manhattanhenge Solstice Ghost, Vengeful Spirit And Poltergeist Watch!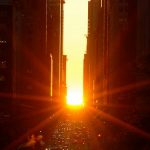 Manhattanhenge, otherwise known as the Manhattan Solstice, is the biannual alignment of the sun with the main streets of the famous New York city borough.  As sunset approaches on Wednesday July 12 at 8:20 PM (EST) the full glory of the holy sun will glitter down the wall of skyscrapers illuminating all in it's path.  On Thursday July 13 at 8:21 PM (EST) a half sun will be seen dipping below the horizon exuding a gloriously iridescent light show for New Yorkers. The best locations to view Manhattanhenge will be on 14th, 23rd, 34th, 42nd, and 57th streets.  This type of solar sunset alignment within hours of the Witching Hour of Midnight promises to bring with it even more increased supernatural activity of a spiritual nature.  Expect ghosts, vengeful spirits, and even poltergeists during this dangerous time! Read The Rest Of The Warning On Our Paranormal Activity Blog….
As an Amazon Associate we earn from qualifying purchases.