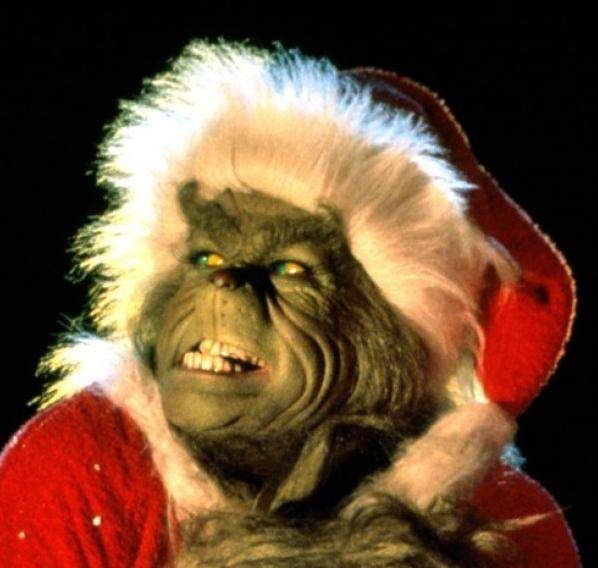 Yes, would you believe the Grinch is a real supernatural being!?!  However, his story was greatly simplified by the infamous author Dr. Seuss in his 1957 book "How The Grinch Stole Christmas!" In reality, the green Grinch was a Gnome helper of the Anti-Claus. This Dark Claus is Santa Claus's evil twin brother and the leader of Dark Christmas.  Only exceptionally evil Gnomes are green, including those working for the Anti-Claus. Indeed, they literally turn green with greed, and envy.  They also grow larger than standard gnomes, and exhibit more monstrous facial features signifying their status as members of this elite legion of elevated evil! Despite being a lowly gnome The Grinch worked his way up to the Anti-Claus's Gnome Commander.  The equivalent of Santa Claus's trusted Chief Elf.  The Grinch had a huge ego and became drunk with malevolent power as he began tapping into dark magic.  He fancied himself as the true leader of Dark Christmas. Within his pathetic delusions of grandeur, he saw himself as being a match for a powerful Demi-Demon like the Anti-Claus.
Delusions Of Grinch Grandeur
Over time he hatched a diabolical plan to destroy Christmas, suck away the power of the Spirit Of Christmas, and then use that formidable force to turn on his Anti-Claus Master.  Naturally, there's no way a Gnome would have anywhere near the power to do this, and he failed miserably!  Although we'll give him an A for alarming effort! Almost immediately after his fantastic failure, he scurried away into hiding. The Anti-Claus was deeply angered, and his fellow Gnomes considered the Grinch a traitorous outcast.  To this day it's thought that the Grinch is still hiding in a deep dark cave somewhere cowering in fear of his frightening fate.  Or could he be foolish enough to plot a careful comeback? Possibly joining forces with a constant competitor for Dark Christmas rule? That being the monstrous Krampus who existed long before the Dark Claus yet isn't as powerful.  Even after all this, Santa Claus has stated the Grinch is forgiven and may have a home at the North Pole if he wishes. Thus far he has not been heard from! Even the cold-hearted Jack Frost thawed enough to be a welcomed resident of Santa's Winter Wonderland!🎄 Read The Rest On Our Christmas Blog…
🎅Visit Santa Claus's Website For More Supernatural Christmas Articles: NorthPole.City
As an Amazon Associate we earn from qualifying purchases.