What Are The Supernatural Threats Of The George Floyd Protests?

Protests, riots and civil unrest rage forth as a result of the dastardly Death of George Floyd by the knee of police! This crazy chaos has included looting, vandalism, battles with counter-protesters and major property damage amid violent police response. The Mardi Gras Joker is the diabolical Leader of Mardi Gras and the general Carnival holiday. This filthy fiend is also a top flight Voodoo Witch Doctor and criminal underworld mastermind. Various sources in the supernatural community are indicating that the MG Joker and his crazy Cult have some responsibility in stoking the flames of violence in the George Floyd protests. The jolly Joker and his merry band of blasphemous bullies infiltrate peaceful protests and incite riots! The purpose is to realize the Mardi Gras Jokers ultimate dream. He wants to create the so called Party or Purge Apocalypse. First starting in the United States with the hope of spreading around the world!
What Is The Party Apocalypse?
The Party Apocalypse, sometimes called The Purge Apocalypse, is a global party in the worst sense rather than some peaceful Utopian celebration. It's an apocalypse brought about by Anarchy or Dystopian regimes looking to appease an overly disgruntled population by allowing them to do as they please within a certain construct. This as the wealthy plutocratic elites and high value government officials remain safe in their strongholds. All while pretending they are down with the common man and woman. This would be something as seen in The Purge films except 24-7! People would be free to murder, maim, and cause mayhem anywhere they can get to without any interference from law enforcement! In the case of the Joker he wants the complete and utter destruction of modern civilization as we know it!
The Nightmare Of The Purge Come To Life!
Gun toting gangs dressed in crazy intimidating costumes would run rampant stealing, killing and raping. All amid hardcore partying all damn day long into the nefarious night straight till dawn! The megalomaniacal Mardi Gras Joker desperately wants to bring about the global festival of fright diving deep into dark debauchery and heinous horror for all eternity! We could even see high stakes life and death competitions like something witnessed in the Twisted Metal video games. Perhaps the purpose would be to divide territory among gangs or even to win the title of local government enforcer. That is if any government framework survives amid the raw violent anarchy! If you spot the jester dressed Joker at any protests then please contact your nearest paranormal professionals, practitioners of magic or the US Paranormal Defense Agency. Local law enforcement would be no match for the MG Joker and his chaotic cult!
The Mardi Gras Joker Rocks A Riot!
There is one confirmed sighting of the jeopardous Joker at a New York City protest. He wasn't wearing his complete Jesters costume but his apparel was odd enough. He and his cultists where inciting violence by throwing rocks at windows and police. The Joker laughed loudly like a loon as he flung a few rocks at police clad in riot gear. Two officers ran toward him and shot the Joker with pepper spray. It had no effect and he began beating down on the police with superhuman strength that broke their face shields! Other officers moved in while his cultists ran around destroying any camera's trying to film the spectacle. Another officer tased him and the Jokers response was, "Are you trying to turn me on boy?" He forcibly grabbed the taser away and shocked several officers. They drew guns ready to fire when he quickly recited an incantation and clutched a Voodoo doll that looked like a cop. The police suddenly froze as he frolicked away down an alley and disappeared! Within ten seconds they were moving again.
Supernatural Beings During George Floyd Protests And Riots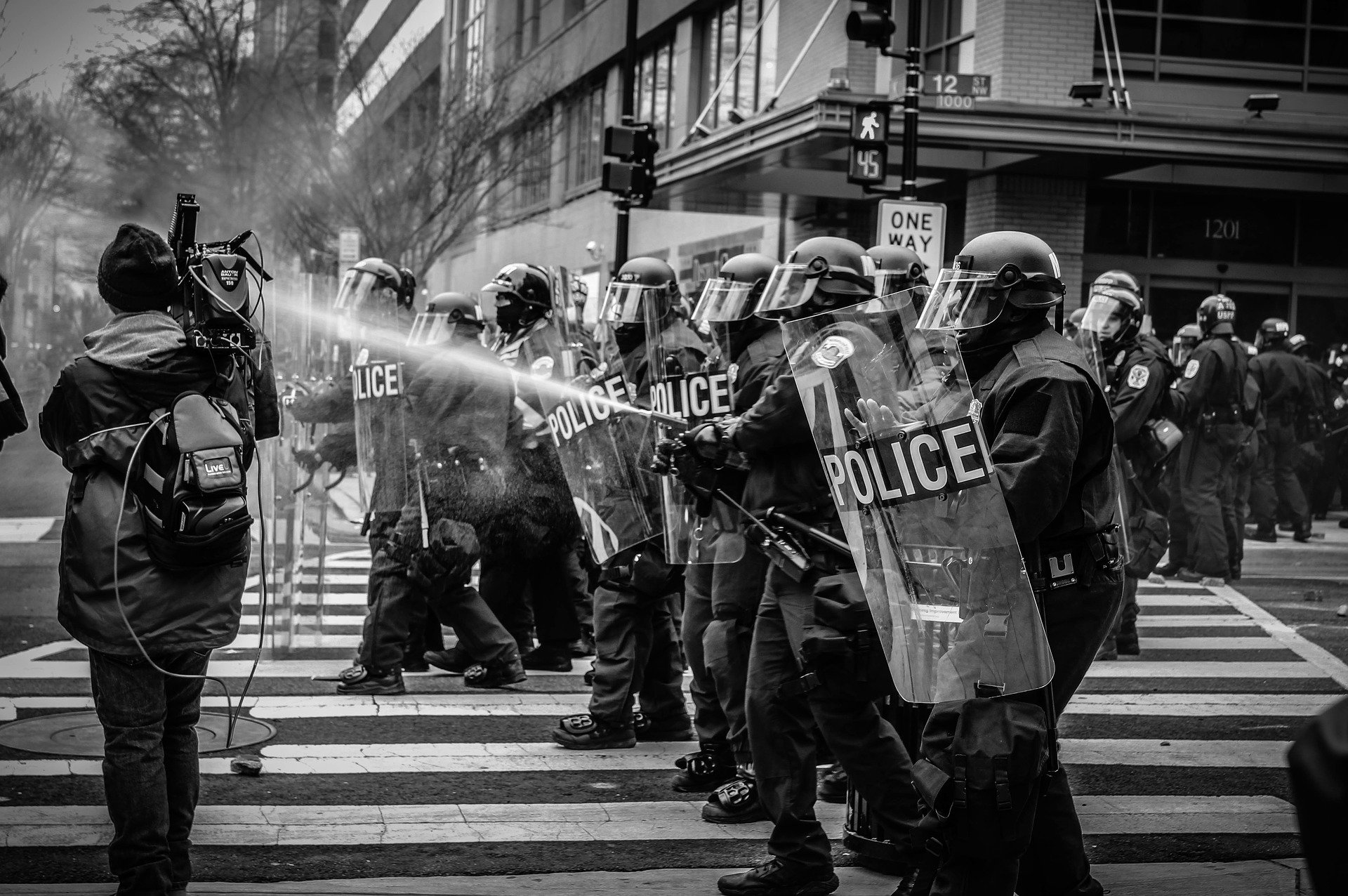 The protests and civil unrest sparked by the death of George Floyd and racial inequalities have taken place mainly in cities. The scope of supernatural beings involved is far less than if this were in rural areas. Most paranormal entities tend to avoid crowded place. Especially if they can't hide their monstrous appearance! Also avoided are places where Mother Earth's enchanted energies have been muffled by large scale human structures. However, the number one urban supernatural threat has always been Vampires on the prowl for fresh blood! Where ever a large number of people roam the night so will the sinister blood suckers follow! Particularly if it's a chaotic situation where most won't notice an individual suddenly gone missing!
Vampires Are The Top Threat At Nocturnal Protests!
Vampires most favorite venues have historically been bloody battlefields where they can feed and mingle unnoticed among the carnage. Certainly, they have nothing to fear from standard bullets, grenades, rockets and explosions. Violent protests in the dark shadows are a much more excellent modern choice. Any given case of nocturnal civil unrest can have at least a dozen vampires milling about. The vamps can be found biting into a variety of victims, slurping up spilled blood, and scurrying a target away to a secluded burnt out shell of a car for a more filling meal. They can even pose as police under the masks of riot gear and then hypnotize fellow officers as they partake of arrestees on the way to jail! The normalizing of pandemic masks also allows them to have their fangs extended and ready for action! Always carry vampire repellents on your person for paranormal protection!
Protesters Gone Missing
There have been reports of protesters who mysteriously disappeared during the violence or were later found dead. The police have denied responsibility. In some cases it's non-paranormal serial killers and other sick puppies along with sex traffickers looking for new victims! With the rest it's the MG Joker's Cult kidnapping people for sacrifices or brainwashing them into their organization of terror. This also goes for The Plague Doctor's Cult who also loves spreading COVID-19 and other diseases within the large crowds. Various evil witches and warlocks are also searching for fresh blood sacrifices to their demon or dark deity of choice! Many have the false illusion of feeling safe in crowds. Especially if they are like minded people out for a single cause. Remember that you are in a sea of humanity that is a target for supernatural sharks out for your flesh and blood! Always be on alert!
As an Amazon Associate we earn from qualifying purchases.