The Haunted Tale Of The Sinister Scarecrow

The Legendary Loomis Farms Falls Prey To The Great Depression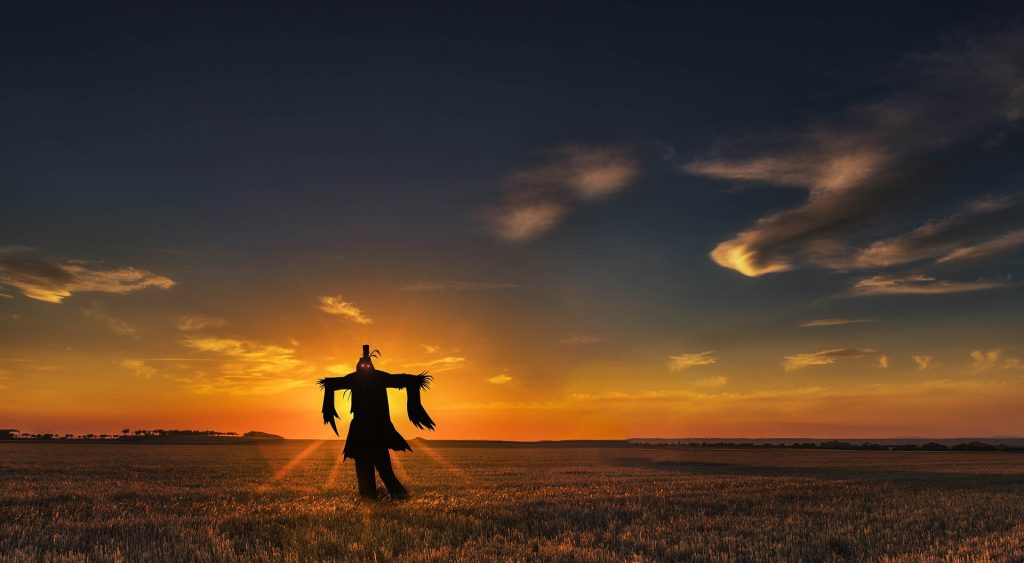 Somewhere in Pennsylvania Dutch Country a farm and its cornfield sit abandoned for many decades now. Nobody will buy the property and mostly only foolish teenagers venture on the property only to face foolish dares! The deserted Loomis Farms was once a proud profitable farm of a non-Amish sort. The God-fearing Loomis Family survived and thrived since the time of the Revolutionary War. They were always at peace with their Amish neighbors and often traded with them. However sometime during The Great Depression, things went south for the Loomis Clan. Meanwhile, their mostly self-sustaining Amish neighbors fared far better. The Loomis Family went broke and were facing the loss of their farm. For a time, the Amish shared what they could but eventually, they had to make sure their own community was fed. The pride-filled Loomis's were already embarrassed by taking hand-outs but at least they were alive. Now cut off, they were angered at the prospect of becoming homeless hobos.
A Once Proud Family Resorts To Stealing From The Amish In Order To Survive
They began stealing from the Amish and even engaged in masked nighttime raids that eventually involved violent attacks. Naturally, the Amish did not fight back but rather began evading the Loomis Raiders. They also hid their food and other belongings. One fateful night Old Man Loomis killed an entire Amish family in a fit of rage. After that, the small Amish community around them promptly abandoned their properties. Although not before burning them to the ground and taking everything valuable with them! The Amish claimed the burning was to fertilize God's Earth rather than a form of revenge. They were welcomed into another community of their kind some distance away. A more populated area where the Sheriff wouldn't stand for this violence whether the Amish complained or not! Unfortunately, law enforcement was quite sparse in the general vicinity.
Violence Erupts Amid Amish Discord
There was an investigation into the Amish family death but no proof linked it to Old Man Loomis. Still, there were suspicions. Despite his heinous act, he was beyond outraged that the Amish wouldn't, in essence, be his slave labor. The Loomis Family couldn't risk traveling further to perpetuate their raids. Especially when their past thefts were easily done on foot with a quick escape through the woods they knew like the back of their hand. They barely survived on despicable-tasting soups made out of anything they could scrounge up! Finally, they lost all hope amid another failed Dust Bowl harvest. The farm was about to be seized by the bank. So on Halloween instead of trick o treating, they went on a risky raid to where the Amish had moved. Things went south as a small Amish boy ran to tell the Sheriff who lived nearby. The Sheriff and his men caught the Loomis Family in the act and killed most of them. They simply refused to surrender. Only Old Man Loomis and his youngest son Harley managed to escape with some non-lethal wounds.👻 Read The Rest Of This Supernatural Story…
As an Amazon Associate we earn from qualifying purchases.