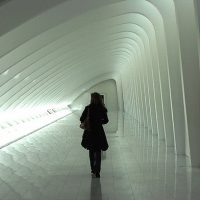 The Hall Of Letters is a historical archive at North Pole City. It's apart of the North Pole City Museum featuring all manner of Christmas memorabilia throughout the entire centuries-long life of Santa Claus. The Hall Of Letters is a long white corridor with large windows that contain all manner of correspondence to, from, and within North Pole City. In particular lovely letters to Santa from kids located all around the world. The best ones, hand picked by Santa, and Mrs. Claus, are displayed on brightly lit panels underneath protective glass.  The most wonderful ones are on permanent display while others are routinely rotated for all visitors to enjoy!
Virtually every single letter Santa has ever received is located there or in adjacent archive rooms.  There is also an extensive document vault below as well. A handful of other personal correspondence is located at Claus Manor for Santa's personal perusal. The hallowed hall itself is enchanted by the Spirit Of Christmas, and it can sense a visitors consciousness wishes. If they're expecting to see their letter on display it will magically appear just for them. However, once they exit the hall it will return to the archives if it wasn't originally on exhibit.
There are always three Elves on duty within the Hall Of Letters. Two who respectively stand guard at the entrance of each door. And one who paces the Hall with a large candy cane staff to ensure the integrity of the historical papers are kept intact. There is also expected to be a quiet contemplative decorum when strolling through the Hall. It's one of the few places at North Pole City where parents must escort their children unless the child is very mature for their age. If there is any rowdiness, or disturbing of the documents, the Elf will wave his staff or pound it on the marble floor demanding such activity cease. If any kids start crying as a result then the Happy Funtime Alarm goes off causing confetti to reign from the ceilings amid merry Christmas music. An announcement that the Hall is closed sounds as reinforcement Elves rush in to direct everyone out to a nearby impromptu party full of tasty treats, and entertainment. By order of Santa, the sad child must be made merry within minutes! After a quick clean-up, the Hall Of Letters is re-opened without incident.
The Hall Of Letters is open 24 hours a day 365 days a year so one may enjoy reading amid
 the peace of the early morning hours. On Christmas Eve all
Elves must be on deck for present delivery preparations. During that time the Hall is monitored by various volunteers that include Mrs. Claus, Frosty The Snowman, Rudolph The Red Nosed Reindeer, Jack Frost, Winter Deities, previous Claus Award winners, and other special honored guests. Often with supernatural roots. Some of us here at Mystic Investigations have had the pleasure. I myself, President Xavier Remington, got to wield the candy cane staff for an hour. Thankfully I didn't have to use it!

By Xavier Remington | Copyright © 2018 All Rights Reserved MysticInvestigations.Com If you're seeing this entire article on any other site besides http://mysticinvestigations.com then it has been illegally copied and should be reported immediately!