🤡 Is The PlayStation Video Game Twisted Metal Real?
In our current reality, Twisted Metal is a Sony Playstation[Ad] vehicular combat video game franchise that originated in 1995. In various Parallel Universes, it exists in the real world within the present and future. The Twisted Metal Contest, or Competition, is hosted by a mysterious maniacal billionaire named Calypso with supernatural connections. As a child, he had an odd fascination with roadkill and was constantly obsessed with a deer that died when his dad crashed into it. At age 12, he got into the family station wagon with the hope of driving over an injured rat limping in the driveway. However, he hit the gas pedal too hard and ran over his younger sister, who had just bolted into the driveway.
He felt great guilt over the unfortunate incident and repressed the memory by pretending his sister's doll was a reincarnation of her. They say he always had that doll within hands reach his entire life on Earth! He then became deeply fixated on human deaths caused by vehicles. In his late teens, he entered demolition derbies for the sole purpose of causing mayhem and "accidental" death without getting into any major trouble. Later on, he became a serial killer known as the "Car Killer". Calypso loved mowing down people in various vehicles as he crazily cackled with glee. Often, amid his laughter, he could be heard screaming, "I'm sending you to Hell!" He always had his sister's doll in the passenger seat as his partner in crime.
Calypso was very particular about who he chose to murder. He'd initially stalk them and play twisted games with their lives. Slowly but surely, he'd steal their money as well. Once the victim was sufficiently "broken," only then would he ram into them with the full force of his metal murder machine! Despite his careful tactics, law enforcement eventually figured out who he was. On the verge of capture, he committed suicide and went promptly to Hell! The Devil was impressed with his predatory prowess and potential for greatness. His ability to weaken people's spirits made their souls ripe for the taking. The Devil blessed him unholy and gave Calypso wish-granting powers. An ability tied to Calyso's soul, which is owned by Satan. In no time, he became the richest and most powerful man on the planet. Behind his perplexing power was the purpose of collecting souls for Satan! Beyond that, the Devil had long-range plans to utilize Calypso in winning his battle against Heaven, Nature Deities, and other amazing adversaries.
The Twisted Metal Contest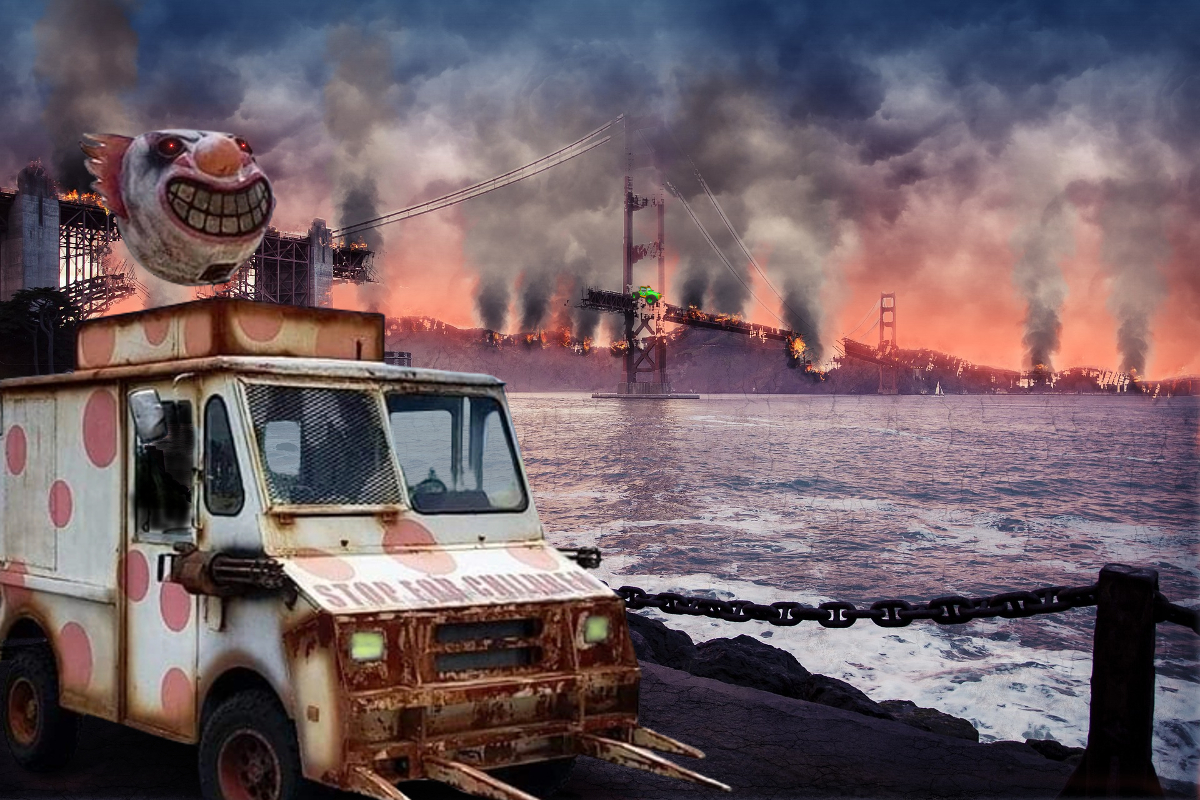 In order to lure in top-flight souls, he created the Twisted Metal Competition. In the fine print of all contracts is a clause stating that the players have sold their souls to Calypso, who in turn acts as Satan's proxy. Those who die end up going straight to hell in a horrifying handbasket! Players enter Calypso's crazy competition with their custom combat vehicles, armed with every weapon imaginable. They're then let loose all over the world to battle each other. Usually in urban areas. Something only possible due to Calypso's complete control of so many cities via his corporation and granting wishes to high-ranking government officials.
They all fight for the ultimate prize. It is often a wish that is sarcastically twisted by Calypso. In essence, the victory is worse than the death that usually results from losing the contest. However, in some realities, the wishes are genuine. In others, there is no paranormal element, and the prize may simply be money or a ticket to live in the luxurious safe zones since most of the contests take place in dystopian futures and dark post-apocalyptic worlds. Ultimately, Calypso convinces the winner to sell his soul to them more willingly than the fine print of the original contest contracts. These are the most prized soul sales. Especially considering that these people have proven themselves to be ruthless winners worthy of Hell citizenship.
A Post-Apocalyptic World Of Legal Vehicular Manslaughter!
Such horrifying competitions can only take place in wayward worlds due to the chaotic carnage and collateral damage that result from waging war everywhere and anywhere on Earth! Many innocent victims die as the vexing vehicles battle for supremacy. Sometimes Twisted Metal or similar violent vehicular competitions with no limits happen as a part of the greater Party Apocalypse. Something we have glimpsed in The Purge movie franchise. True Twisted Metal contests occur in lawless societies or within authoritarian regimes that wish to appease a segment of the populace who could pose a threat to their rule. The regime itself is often a global corporation or cooperative of several mega-corporations that have taken the place of traditional public government. Sometimes a vestige of the government is left intact, but it is merely a puppet of the master private corporation.
The contest is a method to distract the citizens from the hell of their lives under any given governmental system. A deception to make them believe they have some kind of control over their pathetic lives. A delusion that anyone can win the Twisted Metal Competition and finally live a sweet life of luxury. Not only have top-flight psychics, seers, and mystics seen the Twisted Metal reality in Parallel Universes, but also potentially in our future as well if the forces of darkness win in their quest for global domination! The aforementioned account of Calypso's life appears to be the most common origin for this filthy fiend. Although there are many others as is the case with all our parallel lives. The Parallel Reality closest to ours and the one most like the video games exists as follows…😈Read The Rest Of This Twisted Metal Article On Our Main Website…
🤡Sweet Tooth is virtually the mad mascot of the Twisted Metal Franchise. He's seen as one of the most terrifying and effective warriors within the Twisted Metal Universes. He's a demented serial killing clown who drives an alarming ice cream truck of titanic terror! 🏎️ [Search For Twisted Metal Video Games(Ad)]
The Peacock streaming series doesn't appear to have a supernatural side or a contest in play. At least so far. In that Twisted Metal reality, we do see a post-apocalyptic world of vexing vehicles outfitted with all manner of weapons. They're on the attack for supplies to survive in a world of scarcity. The major cities are protected, fenced-in utopias, while the rest of the world is in anarchy. This is unlike the video games, where the cities are war zones for the Twisted Metal Competition. The show follows a "Milk Man" who delivers goods between cities as he dodges marauders looking to steal his precious cargo. He eventually gets an amazing offer from the leader of New San Francisco. She wants him to acquire a mysterious item from New Chicago in exchange for citizenship in her utopia. There's no mention of any contest like the video games but perhaps this premise makes a bit more sense in a post-apocalyptic world where there are still civilized safe zones.🏙️
The leader plays into his wish of belonging to a family in a safe environment. However, she is putting on an act and is clearly evil to some extent. The first episode of Twisted Metal is free with ads. However, the other nine episodes require a monthly Peacock membership. It seems the second season may actually grant us the wish of seeing a live-action Twisted Metal Competition!
Play Twisted Metal Online!
Twisted Metal One Game Play (1995)
Twisted Metal 2 Game Play (1996)
Twisted Metal Game Play (2012)
As an Amazon Associate we earn from qualifying purchases.