Previous Paranormal Forecast: Harvest Moon Werewolf Warning!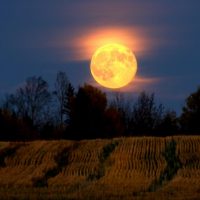 The Harvest Moon of September is sometimes called the Pumpkin Moon due to the almost orange hue it may have. This large low lying Moon is Mother Nature's gift to farmers as they go about the titanic task of harvesting their final crops of the Summer season.  The extra bright Moon allow for nocturnal agricultural activities during the several nights of it's apparent fullness to the human eye.  Unfortunately large Moons give us increased metaphysical lunar energies which supercharge the already existing danger of Werewolves.  Most of these loathsome Lycanthropic individuals transform in response to these enchanted energies that exist whether the Full Moon is completely visible or totally shrouded by clouds.  This monstrous manifestation can occur at as little as 80% of Full, and up. Over time a Werewolf in human form can develop a resistance to the mystical Moon, and even someday transform, and de-transform at will.  If the Moon even looks somewhat full always be on alert for these nefarious nocturnals! Read The Rest Of This Important Werewolf Warning On Our Paranormal Activity Forecast Blog…
As an Amazon Associate we earn from qualifying purchases.