What Did Mystic Investigations Do On Easter Fool's Day?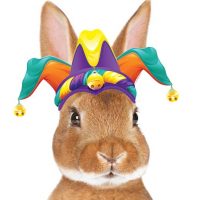 On April 1st, 2018 we were cautious while enjoying Easter Sunday festivities as it was also April Fool's Day. Especially after we had issued an April Fools Easter Alert the day before! On April 1st we generally garner the honor of a visit from The April Fool himself. He's a prolific paranormal prankster who enjoys embarrassing people whether they simply be supernaturally relevant or pompous asses. In our case hopefully, it's Mystic Investigations legendary status in the supernatural community. Usually, the Fool mildly vandalizes our website with his goofy content along with personally pranking us. I remember that time he literally turned me into a helium balloon and I floated out the window! It was a shocking and surreal experience! On the lower end of the joke scale, he enjoys teleporting people into crowded area's completely naked! Our resident demi-mermaid witch Rebecca Abernathy once stepped out of the shower and she was suddenly on Main Street devoid of even a towel! Read The Rest On Our Supernatural Story Blog…
As an Amazon Associate we earn from qualifying purchases.