What Is The Easter Fool's Moon Of April?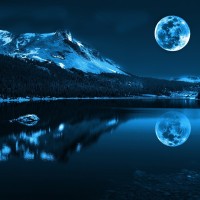 Although we will experience a Blue Moon on March 31, 2018 it will pretty much be supernaturally superseded by the extremely rare Easter Fool's Moon. Such a moon falls near or at the time when Easter and April Fools Day become one enchanted entity. The Easter Fool's Moon is full of sweet joviality as the Easter Bunny and April Fool come together in fun filled unity. Since the Spirit of Leprechaun Luck, Easter enchantment, and April Tomfoolery flow strong in this Moon we should see very little paranormal activity. That includes werewolves, ghosts and poltergeists! Although the spells of good witches, and righteous supernatural beings will find these lunar energies beneficial. Read The Rest Of This Paranormal Activity Forecast Here…
As an Amazon Associate we earn from qualifying purchases.