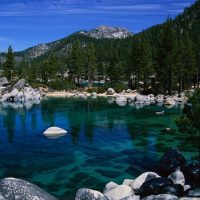 Recent sightings of Lake Tahoe's monster 'Tahoe Tessie' have been skyrocketing as tourists flood town for the summer season. With the proliferation of these events, The Tahoe Journal decided it was time to finally get to the bottom of the truth behind the legend. After scouring the lake for information with regard to Tessie and her origins, our investigation repeatedly led us to the same place: the TRPA.
After numerous calls, emails, and visits to the TRPA headquarters in Stateline, NV, we finally located a former agent to speak with us. The agent requested that we not give any identifying information about them, due to the fact that the last agent to divulge information about 'Situation T' was promptly fed to the legend itself.
"I've worked for the TRPA for nearly 12 years, and it disgusts me that no one within the agency will come clean as to the origins of Tessie. I was there the day the InGen corporation had the first meeting with board of directors in 1992. At the time TRPA was planning to create a new attraction to draw more tourism to Lake Tahoe and boost the local economy."
According to our anonymous tip, when InGen caught wind of TRPA's plans, they approached them with an offer they couldn't refuse: a mysterious lake monster that would lure curious minds from far and wide.
Read The Rest Of This Alarming Article By AJ Steed At The Tahoe Journal…