---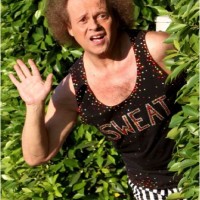 Fitness guru Richard Simmons has withdrawn from his normal routine, and remained hidden from the public for the past two years.  The normally social, and outgoing Simmons hasn't left his house in that time, and has refused all communications from friends along with family as well.  Some have conjectured it could be depression while others have suspected he's being held against his will! When last seen he looked frail, pale, and weak.  Our insider paranormal sources have learned that Simmons had forged a friendship with a Hollywood Voodoo Witch Doctor named Abelhoffer.  Upon further investigation we've discovered that Abelhoffer is notorious for extorting money, and siphoning metaphysical energy from celebrities.
Basically Abelhoffer curses the unsuspecting celebrity, and then moves in with them taking over their lives.  Famous people in general have a high level of metaphysical energy channeled through their Chakra's courtesy of so much of the human collective consciousness focused on them. In other words the astral energy of countless fans, or anyone who even thinks of Simmons for a moment, is funneled into him.  This can make for powerful magics if collected properly.  Abelhoffer has mastered the art of metaphysical energy siphoning via crystals, and voodoo dolls targeting the Chakra's. This not only takes the extra enchanted celebrity energy but also the very energy of the persons soul.  This is why Simmon's looked so terrible when last seen.  The sapping of ones supernatural soul energy takes away the biological energy from their cells causing rapid physical, and mental deterioration!
There's rumors that the Beverly Hills Supernatural Society(BHSS) has been hired by concerned friends to storm Simmon's house, and save him! Thus far some manner of mystical shielding is preventing anyone from entering the property.  The BHSS is a team of supernatural specialists led by the Sorcerer Janis Pentalamb.  Hopefully her powers alone can trump a Voodoo Witch Doctor!  When we contacted BHSS they elected to make no comment on the record about the Richard Simmons situation.  We will keep you apprised of the supernatural situation as updates become available!
Related articles