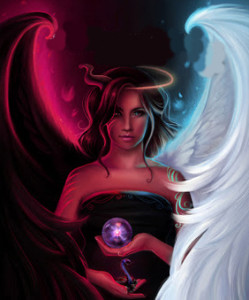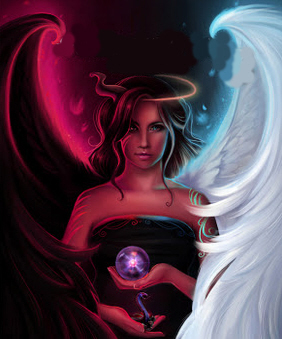 Our supernatural investigators have had their paranormal ears fixated on the pulse of the paranormal planet, and gleamed some more clues about the secretive leader of Halloween.  The reports first came in months ago that the leader of Halloween was in fact a neutral figure neither on the side of pure good or pure evil.  He or she has been confirmed to be an unheard of Angel-Demon hybrid by various psychics, and major players in the paranormal community.  In addition Santa Claus, who we know, has confirmed through his Heavenly sources that this hybrid Halloween leader exists but he has never personally met the individual nor knows where their base of operations lies.  Although Santa says he was the magically cloaked judge at his Supernatural Secrecy Pact trial many centuries ago.  The leader may have also only taken command of Halloween in recent centuries.
We have no idea who partook of the unholy union between an Angel, and Demon but various psychics report seeing the Angel-Human hybrid being shrouded in a literal mystical gray cloak of mystery it wears to protect itself from detection.  He or she appears to reside in a hidden village where it's perpetually Halloween, and constant autumn time almost in a perpetual nightfall.  There's only a small period of time with a iridescent sunrise, and sunset lighting the sky with a fire of colors.  It's perplexing that any place on Earth could almost constantly be dark with a full Moon, and stars displayed in the skies above.  The constant autumn is possible because such places exist in our own town of Woodland Springs within our Enchanted Woodland, and Mystical Forest.  However we have no paranormal locations that defy the celestial cycles.
Within various visions witnessed the town is fully decorated for Halloween, and kids are constantly trick o treating.  Clearly we have no reports of kids going to such a place.  We're looking into this Halloween headquarters as being within a inter-dimensional pocket adjoining ours.  There's a possibility these kids are in fact ghosts trapped between life, and death.  Also who are the adults passing out candy to them which the kids seem to eat 24-7 with glee?
We will continue to keep apprised on any further intel we receive from the mysterious master of Halloween we're now calling The Halloween Hybrid.
Last Blog Post On The Leader Of Halloween