The Great Claus Shifts Into Halloween Mode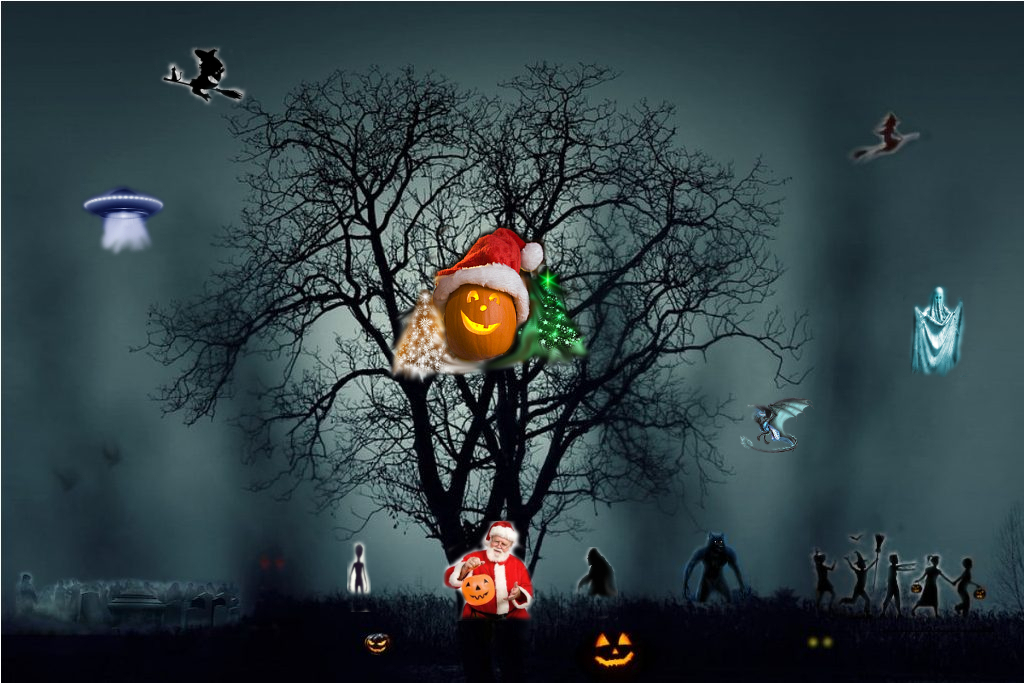 As the chilling month of October approaches Santa Claus calls upon The Autumnal Goddess. She directs her Autumn Nymphs, and Fall Fairies to transform North Pole City into a Halloween haven of Autumn allure. Autumn Elves of various woodlands and forests join their Christmas brothers to aid in this exercise as well. The deciduous foliage is enchanted to explode into a kaleidoscope of fantastical colors! A palette that included hues, and tones never before seen in the non-supernatural world. This also encompasses glowing, and glittering leaves as well.  All of which eventually fall to the ground majestically in a variety of mesmerizing patterns.
Fantastical Foliage
Incidentally, the leaves remain perfect even on the ground and don't turn into brown crumbly paper. They eventually turn to mystical shimmering dust that compliments the later snows of winter. Once the leaves flutter downward, the trees begin growing unique winter leaves of dark blue, sky blue, and white colors under the direction of Winter Deities such as Jack Frost. There's also the spectacular giant poinsettia trees that bloom bright crimson in December! Ultimately though most of the landscape is dominated by the perpetual pines of emerald elegance along with other evergreens. Read The Rest Of The Story On Our Christmas Blog…
As an Amazon Associate we earn from qualifying purchases.