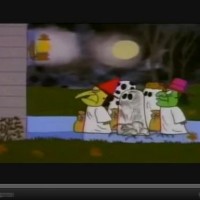 It's the Great Pumpkin, Charlie Brown is the quintessential American Halloween classic that brings back the nostalgia of an old fashioned Halloween which you may remember as a child.  The magic of Autumn heralds in the Halloween season as leaves flutter about in the rays of the serene sun.  Watch the Peanuts gang prepare for the momentous occasion, trick o treating with glee, and enjoying the games of the Halloween party. Witness Linus lying in wait within the mystical pumpkin patch for the amazing arrival of The Great Pumpkin.  Definitely a must see for children, and adults alike.  This is perfect for viewing just after trick o treating.  Then once the kids are in bed, and the Halloween witching hour is at hand it will be time for a horror movie such as Halloween.
Although The Great Pumpkin is never seen in the cartoon, we feel that Linus is misguided in his belief that the entity is of good.  The undying belief that includes choosing sincere pumpkin patches where true believers of The Great Pumpkin who supposedly has a warm orange heart.  The Great Pumpkin may indeed target those who truly believe in him but we feel his gifts of toys may come with a steep price.  The nefarious Great Pumpkin plots to steal away the innocence of youth, and corrupt the sanctity of Halloween.  We suggest exercising caution when waiting for this figure of evil within the hopefully safe confines of your sainted pumpkin patch on All Hallows Eve.  In reality this perplexing Pumpkin Monster is more like the one portrayed in the video below!
If your children are looking for a leader of Halloween then look no further than The Queen Of Halloween Shala.  Although a Angel-Demon Hybrid she is about balance between good, and evil.  She fosters safe trick o treating to marshall the innocent magic of children to counter the forces of darkness who conduct their most powerful maniacal magics on All Hallows Eve!
PS: If the heartless Powers That Be delete It's The Great Pumpkin, Charlie Brown from it's source that was in turn embedded upon this page for your kids enjoyment then you can click here to buy, and watch it online!
See Also Jack-O-Lantern Monsters | Pumpkin Demons
Related articles