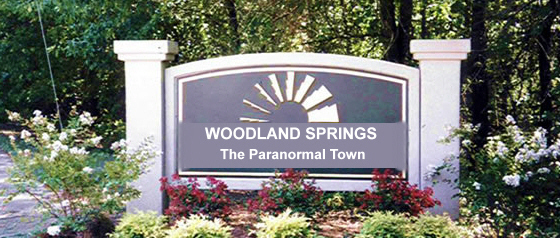 A mystical town founded by Mortimer J Griggs (Born 1837) in 1861 after he struck gold at Pikes Peak. Later on he struck gold again in Woodland Springs and today his abandoned Griggs Mine still exists.  He bought all the land in the hidden valley nestled within the Rockies where our town resides. The town is renowned for it's hot springs and lush forests teeming full of paranormal activity and supernatural beings. Why it's such a hotbed for such a plethora of supernatural happenings is not fully known but we know that Native Americans, Comanche in particular, held this land as being highly sacred for thousands of years. Woodland Springs was rated the number one paranormal center in the United States, and number 9 for the entire Earth in the Global Paranormal Almanac.  Population 14,421.  Elevation: 6,666 feet above sea level.  Located in Comanche County just off US Route 40.  The Woodland Springs River is a tributary of the Comanche River which is in turn a tributary of the Yampa River which also runs through the county.
Woodland Springs is designed to be in tune with nature, and the downtown area is lined with trees, both deciduous, and conifers, on the wide sidewalks.   In the center of the downtown roads is a median with grass, and coniferous trees, and shrubs.  Within the center of that is a biking, and walking path.  Complete with it's own cross walks, and traffic lights at intersections.  The paths connect with the all the other trails that run about the town through parks, The Enchanted Woodland, and through the fabled The Mystical Forest.  The trails also have bridges that cross streams, and rivers along with cave paths.  There is also the famous underwater glass tunnel that runs under Luminary Lake.  The glowing lake, and it's aquatic life are beyond beautiful to behold at night under the wondrous waters.
Due to various political corruption scandals in recent years, involving both major political parties, the town has elected only Libertarian, Constitution Party, other third parties, and Independent candidates to office.  There's only one Republican and no Democrats left.  The government is very limited.  The original town charter was amended to prevent future governmental abuses.  In addition the government and local police believe strongly in supporting and enforcing the Colorado and United States Constitution.   We are also lucky to have a Comanche County Sheriff who vigorously defends all Constitutions. 
Our Mayor is Mortimer Griggs VII (Libertarian).  He was just elected in November 2010.  The great great great great grandson of town founder Mortimer J Griggs.
Locations
The Mystical Heart – The elusive center of the Mystical Forest containing a magical energy source.

The Enchanted Woodland – Contains the Mystic Safe House and Remington Manor.

Woodland Springs River

Comanche River

Comanche Rapids

Woodland Springs Park Reserve – Site of our Labor Day Picnic.

O'Rourke Ravine

Pandora Pond – Woodland Farms

Phil's Old Fashioned Malt Shop

Halloween Haunted House (Griggs Mansion)

Woodland Springs Dam – Electric Company

Old Abandoned Haunted Comanche County Jail Tours

Abandoned Griggs Mine – Far edge of Mystical Forest and Woodland Springs

Tawny's Old Town Tavern – Near Mountain View Road

Stardust Ballroom (2009 Mystic Investigations 1st Public Party) – On Grover Drive
Woodland Springs Savings & Loan

Jolly Joe's Saloon & Spoon

Mystic Lake Inn

Patrick's Pub

Rustic Mill Inn
Notable Personalities