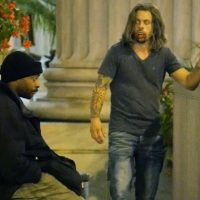 The video above is a guy disguised as a vampire for the purpose of scaring people in a city at night! Realistically if a Vampire actually did this he'd have to be nuts because he'd attract the attention of Vampire Slayers, Paranormal Investigators, Supernatural Crime Fighters, and even the US Paranormal Defense Agency rather quickly. Especially in an urban setting!  If they didn't get him then the global vampire shadow government ruled by Transylvanian Royals would send Enforcers & Knights to stake this fool to ashes!
Although the governments of the world are aware of the existence of vampires various plutocrats with political power prevent a full out global vamp hunt.  Naturally such a war on vampires would eventually expose their existence, and like a great many things the governments like to keep them secret to prevent public panic. If vampires were to be exposed to the world through video evidence then the citizens would demand such a war whether the plutocrats want it or not!  The only vampires that would perform such a silly blatant public exposure are those who could care less about vampire royalty, those who drank some manner of tainted blood, or newborn vampires who have escaped their sires.
All this being said if you spot what appears to be a vampire then don't take a chance! Flee the scene immediately, and head for the nearest church or garlic laden Italian restaurant!
"Urban Vampire Prank"

,