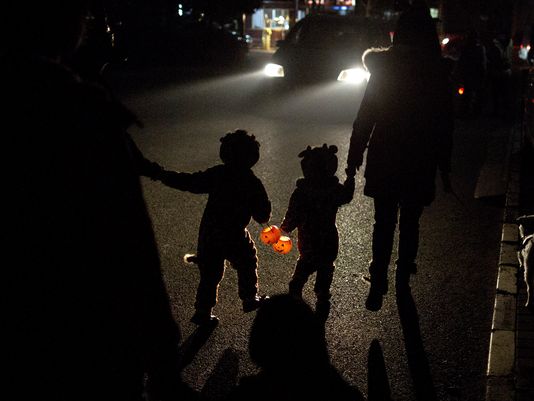 What's up with these communities that have Trick O Treating on the first Saturday or Sunday before Halloween?  They're usually the same ones that have it during daylight as well.  What's the point of trick o treating under those circumstances?  It takes away the magic of the season along with the spooky fun of the festivities.  Not to mention the fact that the forces of evil win when the magical innocence of childhood is kept away from the terror of the night. This is where it's most needed to combat the supernatural forces of darkness.  Frankly the governments of those communities should be ashamed of themselves!  Is it a school night thing?  If so then I'm not sure how a few hours in the early evening is going to negatively effect one day of school. Quite frankly Halloween should be a Federal holiday where everyone has off from school, and work.
In my town of Woodland Springs, Colorado we do trick o treating the right way.  It's actually on Halloween, and begins at 6 PM and goes until 9 PM.  Kids get off from school on Halloween and the next day on All Hallows Day, aka All Saints Day.  I'm not sure why most communities don't do this.  Especially considering how Halloween is the second biggest holiday next to Christmas.  Most homes in our Halloween haven are heavily decorated. Sure the Halloween Spirit has something to do with it but then there's also the $5000 top prize offered by the Chamber Of Commerce. This is for the best Halloween decor, and Trick O Treating host.  It adds to the magic as the costumed kids, and adults skip about the streets with glee gripping their candy-filled bags while leaves crunch under their feet. The atmosphere of Halloween is only complete in the cloak of darkness amid the glowing jack-o-lanterns, orange lights, and illuminated decor. Not to mention the smell of burning leaves in the air.
Petition your local governments to make Halloween a true holiday with at least days off for the kids. Have it at night, and of course, escort your kids. Bring back the true Spirit Of Halloween in your community!