The New Year's SuperMoon Takes The Place Of The Wolf Moon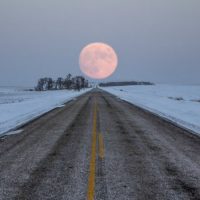 The Full Moon of January is almost exclusively the Wolf Moon. A time when mostly loner Werewolves come together in aggressive packs. Perplexing packs whose sole instinct is to snuff out human life and devour it whole with monstrous glee! Of course in the morning the Werewolves return to human form and feel great remorse for their actions. That is if they happen to remember or put the murderous clues together. All this despite January being so close to Christmas and it's calming spirit of goodness. A serene Spirit that gives us gentle cuddly Yule Moon Werewolves. However with the New Year we have a mystical temporal reset along with certain supportive sinister Werewolf Moon Gods who take command of the lunar energies in January. Thankfully the Spirit Of Christmas still has enough sway to deflect the full brunt of the evil energies. Read The Rest Of This Paranormal Activity Forecast….
As an Amazon Associate we earn from qualifying purchases.