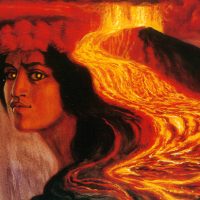 The alarming eruption of the volcano Kilauea in Hawaii on May 3, 2018 along with subsequent earthquakes has a supernatural cause! Various Hawaiian Priestesses, Mystics, Psychics, and Seers have agreed that a war of the Gods began brewing on April 30, 2018 as the first hints of impending lava spewing doom were detected. Nature Gods and Goddesses are the personification of our environment. Their emotional states cause metaphysical energy anomalies that affect our surroundings. Positively for happy peace or negatively for angry war!
Kilauea has been the Earthly home to the Hawaiian Fire Gods and Goddesses for countless millennia. Their Queen is Pele Goddess of fire, lightning, wind, and volcanoes. Recently Kanola, the God of the Hawaiian Underworld, began to curry deep favor with the King God of the entire Underworld Hades. They've formed an unholy alliance with other Dark Underworld Gods and Demons as they vie for control of Earth in the coming battles of Armageddon. The King of the Hawaiian Gods Kane has reluctantly agreed with his longtime friend Kanola as he cares not for being so low on the Godly totem pole. It seems the King Of The Greek Gods Zeus has the largest faction of Earth Gods and Goddesses under his titanic belt. However, he has repeatedly dismissed Kane and virtually insulted him on a number of occasions. Zeus is known for his large ego but is usually smart enough to broker peace and bring factions together.
On the other hand, the Goddess Pele is loyal to Goddess Gaia Mother Earth who must remain neutral in Armageddon as her body the planet is the battleground itself. As a Daughter Of The Omniverse God, she must abide by his wishes of impartiality. Kanola implored Pele to join him and began ordering his cult to sacrifice innocent victims into her volcano for the purposes of harvesting the power of human souls. This enraged Pele and set off an unseen battle out of phase with our reality. The fiery forces of Pele and the denizens of darkness under Kanola fiercely fight for supernatural supremacy! Kane refuses to intervene despite secretly siding with Kanola. Meanwhile, Zeus has sent forth olive branches to Pele in the hopes of enticing her to join his powerful pantheon.
Expect continued lava flows and earthquakes as the battle rages on! Especially with Pele forging new alliances with other fire gods from around the world including the Greek God Hephaestus. These Gods are all hoping to bring the powerful Pele into the Armageddon fray as she is the most powerful fire and volcanic Goddess on Earth! As this invincible war gives us fiery ground shaking chaos expect human violence within a safe vicinity of the volcano as the Kanola Cult battles Pele's Priestess and her loyal disciples. Pray to and for Pele and her allies as she fights for peace on the Hawaiian Islands and the world at large! [Twitter]