Naturally You Get House Of Thrones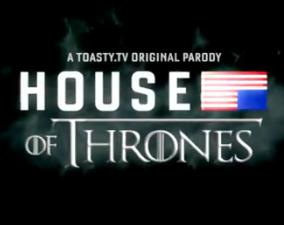 We generally see commercials as nuisances. However the latest production from Quiznos Sandwich Restaurants is more like the preview of an entertaining new show called House Of Thrones.  A hilarious combination parody of Netflix's House Of Cards starring Kevin Spacey, and HBO's Game of Thrones. The actor portraying Spacey's character, Frank Underwood, has a dead on Spacy/Underwood impression who breaks the fourth wall throughout as he does in House Of Cards.  Rarely are we compelled by commercials but this time we'll go ahead, and give Quiznos a try just for entertaining us!
As with any TV show, or film we always examine it's reality in a parallel Universe.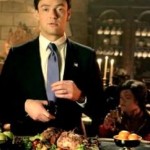 So Frank Underwood achieved his goal of the US Presidency, and discovered the government has a top secret time travel, and five dimensional transportation device.  President Underwood then travels to the past of the parallel Universe where Game Of Thrones exists.  Underwood appears to be alone without security which might suggest he ended up there by accident because he clearly could have the US Military take over. Since he's still wearing his business suit that suggests he's made a point of hyping his arrival from some fantastical dimension.
In this world of medieval danger Frank must rely on his wit, charm, and charisma to survive, and achieve his master plan of controlling the 7 kingdoms.  It seems the same underhanded tactics from our complex political landscape are working for President Underwood on the primitive planet of perils.  However it may just be a matter of time before he is forced to enter into mortal combat to defend his newly acquired throne…
Watch Game of Thrones Season 1 Online | Watch House of Cards Season 1 Online