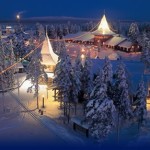 Since 2011 Mystic Investigations has received the honor of being a Claus Awards nominee.  The Claus Awards are the apex of recognition in the paranormal community for excellence in battling the forces of supernatural evil, and helping those in need.  The prestigious ceremony occurs annually on December 30th, and is hosted by Santa Claus himself.  Nominees get the royal treatment at Santa's North Pole City.  This includes the amazing privilege of staying at Claus Manor as Santa's personal guest.  Something all of us at Mystic Investigations describe as some of the happiest moments of our lives.  Unfortunately this year we fell short, and have not been nominated.  However we did win the award in 2012, and all past award winners have an open invitation to North Pole City along with being sent tickets to the awards banquet.  There is also a private dinner for past award winners at Claus Manor as well.  In addition if there's room past award winners can still stay in Saint Nick's house if a room is available.  Although there is none left our teenage associate Zack Powers has struck up a friendship with Santa's son Nick, Jr in past years.  They've been pen pals throughout the years.  Nick has invited Zack for a Christmas sleepover so at least one of us will get to be in the pure heart of Christmas itself.
Despite being instrumental in the battle that took place at The McTavish International Academy Of Magical Sciences against a powerful technological force of evil from the distant future, we still didn't get the nomination.  We're not complaining because the great Sorcerer Ian McTavish himself, his professors, and magic school students are much more deserving nominees for their part in the epic battle.  Naturally they are only one of the nominees so Claus Manor is beyond capacity.  Some of them are going to have to sleep in the attic, and basement. LOL!
Mystic Investigations will be flying to the North Pole this weekend to arrive just in time

for the Winter Solstice Yule ceremony in honor of various Winter Gods, and Goddesses.  This is apart of a recent friendly outreach to the Earthly Gods that is of course frowned upon by many Angels in Heaven.  Santa has always been a controversial figure in all realms but he commands respect in many supernatural factions for his noble efforts to bring everyone together in peace.  As the leader of all that is good on Earth he wants to create powerful partnerships of peace to insure the righteous win the final Battle Of Armageddon.  A war for the final fate of who will rule over Earth, and humanity!