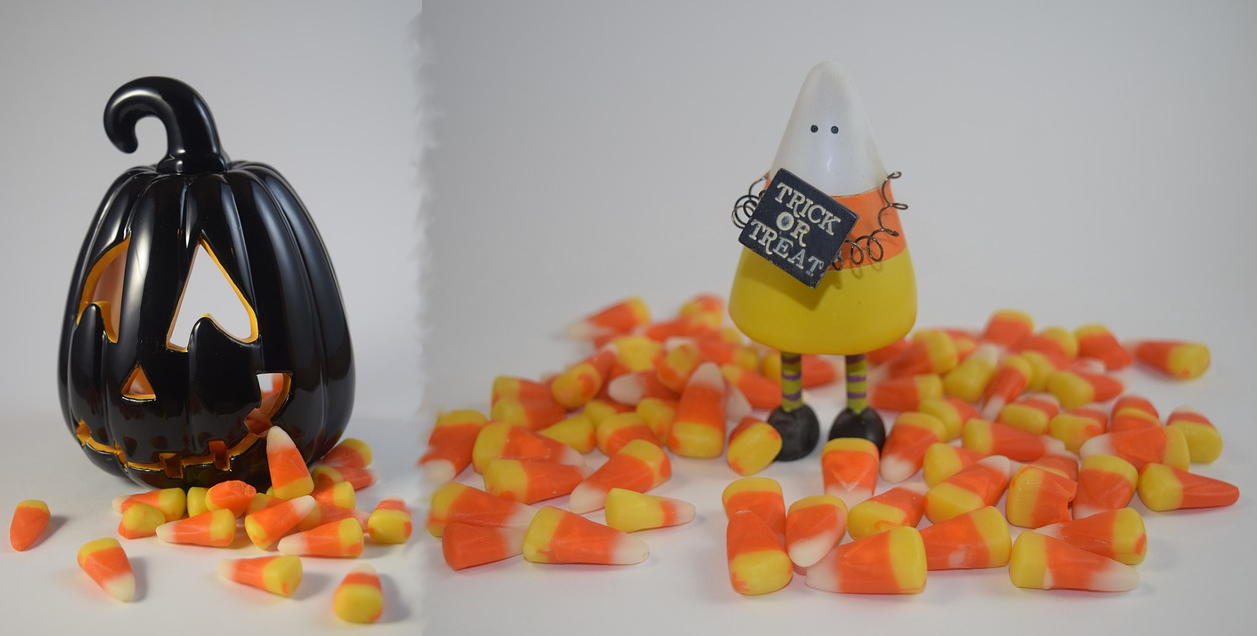 Xavier Remington President Of Mystic Investigations here! On this most spooky

National Candy Corn Day, and of course Halloween Eve, Mystic Investigations finds itself at a spine-chilling Orange Alert! The Condition Orange light strips on our walls flash orange all about our building while giving us an hourly voice warning. There is also an update on current paranormal activity status. Throughout our offices, there is a constant chaotic workflow as people rush about relaying reports of paranormal activity amid doing research in our secret archives. Some of us supernatural warriors whisk away out the doors to face down denizens of darkness with valor! It is our mission to keep the horrors of Halloween hidden from those who could not bear to know the true depth of its titanic terror!
Spooky decor is sprawled everywhere complete with lit Jack-O-Lanterns and cobwebs. Some of us are even wearing costumes to keep the atmosphere as joyous as possible. Generously filled dishes of candy corn, candy pumpkins, chocolates, and other assorted treats rest upon everyone's desk for all to partake of. The sweet sugar keeps us awake as we try to catch naps here and there. One of our hard-working support staff is passed out peacefully behind a potted plant with chocolate all over her face! No doubt she is dreaming of ghosts and dark fairies fluttering about sainted cemeteries with ghoulish glee. In The Spirit Of Halloween, I just polished off a gallon bucket of candy corn and a few cases of chocolates! Then there was that quart of creamy eggnog that fell prey to my thirst as I felt a bit of the Christmas Spirit flirt with that of Halloween. Oh, I forgot the big bag of Hershey's Pumpkin Spice Kisses I found behind the couch in my office from years ago. Ah yes never felt better! Picture of health for sure!
The Halloween season serves up a sinister super sized supernatural soup whose sour taste can spell death of a non-pleasant sort! Despite the lack of a full Moon Werewolves can transform on Halloween! Then we have all manner of other malevolent monsters darting from the dark shadows ready to pounce upon the blissfully innocent we strive to protect! Certainly, Zombies are always a constant issue on All Hallows Eve. They just love rising from their graves all the way through The Day Of The Dead! All of us here at Mystic Investigations will contend with perplexing peril between the Witching and Devil's Hours of Halloween morning! Thankfully the celebration of Halloween and the later activity of Trick-O-Treating stokes the Spirit Of Halloween thereby driving away much metaphysical madness. We implore you to remember the sacrifices of the unsung supernatural heroes who made your frightfully fun Halloween a safe one! You may very well see some of us volunteering at the Autumn Harvest Halloween Festival or the Haunted House! Happy Halloween To All And To All A Spooky Sweet Night!

#Halloween #NationalCandyCornDay #HalloweenEve