Digitally Decorate Your Haunted House Or Halloween Graveyard Holographically To Bring Ghosts, Zombies, And More Alive!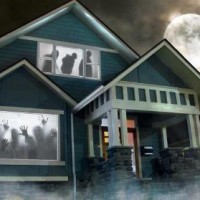 It's time for frightening fun to move into the 21st century with digital decorations from AtmosFearfx.  Finally there's a low cost, quick, and easy way to deck your haunted halls this Halloween season with professional paranormal presentations! You simply place one of many spooky DVD selections in your DVD, or Blu-Ray player for display on a monitor, television, or digital projector for an almost holographic effect.  Use of a digital projector is essential when simulating realistic ghosts, poltergeists, and other malevolent metaphysical monstrosities moving about.  Although a decent sized flat screen television can do the trick nicely as well for spine tingling zombies clawing at windows putting you right in the thick of an old fashioned zombie apocalypse. Finally you can have professional quality special effects for the mere cost of a DVD!  You could truly have the feel of a real haunted house, or graveyard to scare the living hell out of trick o treaters, party goers, and other visitors.  Besides the Ghostly Apparitions DVD there's also Phantasms, Zombie Invasion, Unliving Portraits, Bloody Walls, Shades Of Evil, Creepy Crawlies, Bone Chillers, Night Stalkers, Trick & Treat Witching Hour, and Jack-O-Lantern Jamboree.  Click here to learn more or purchase these unique high quality Halloween horror DVD's.  Click here to browse a selection of digital TV projectors to give yourself, and your guests the complete holographic paranormal projection experience.  Also try a hand held mini projector unit for impromptu mobile holographic projection pranks anywhere!
How To Digitally Decorate For Halloween

No more physical decorations to maintain, and store. A flat screen television is great for simulating spooky creatures at windows, or haunted portraits. A digital projector gives you even more options when you're looking for hair raising horrors!
Realistic Holographic Ghost Effect

Ghostly Apparitions DVD
News Reporters Full Of Fright Courtesy Of Digital Decorations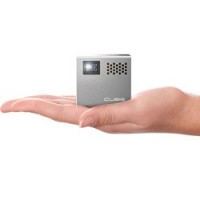 High-Res Mobile Projector- 120 Inch Display, 20,000 Hour LED Life, Mini-HDMI, 90 Minutes Battery Life, Pocket Size Home Cinema