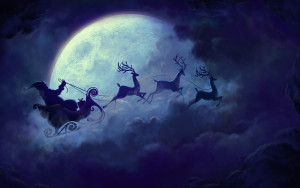 The Yule Moon of December is the only Moon of the year that's almost consistently claimed by the forces of light on Earth! A Full Moon whose metaphysical energies are dominated by the Spirit Of Christmas as directed by the delightful Demi-Angel Santa Claus. Normally Moonlight has some level of unholy light filtered from the holy sunlight. However the Yule Moon is generally a form of holy light. Yet not so holy it repels all manner of dark supernatural forces as the sun would. Instead it tends to have a positive peaceful effect on them. Thankfully this year the enchanting effect is even greater courtesy its proximity to Saint Nicholas Day and the fact that it's a Supermoon.
December is the only month older Werewolves won't transform into their ferocious furry forms. The younger ones who do transform will become white werewolves who are gentle as bunnies. Most Vampires beyond fourth generation will lose their urge for blood while younger ones will become temporarily human during the period the Moon is at 100% of full. Certainly a treat for Vampire Slayers! Most zombie activity will be quelled during this time as well. In addition dark spirit activity will be at a minimum causing haunted houses to go quiet. In general a peaceful calm will be blanketed over most supernatural beings. However don't let your guard down since there are still those with the quintessence of evil dwelling within their dark hearts.
Some interesting elements of enchantment with the Yule Moon include Snowmen coming to life when enough children believe in Frosty The Snowman. Frosty's spirit is intertwined within the Christmas Spirit. On a somewhat related note Abominable Snowmen, aka Yeti, become docile creatures instead of the blood thirsty monsters of winter they usually are. Another unique component of this holy Moon are the transformation of snow angels into holy spirits that will appear to flutter from the ground up into the skies. Again this can only happen if innocent children are making snow angels and happen to be thinking about a deceased relative or friend.  When this occurs only kids seem to see the serene spirit.
Enjoy the loving light of the Yule Moon as we slide ever closer to Christmas!
[Twitter]