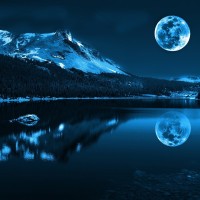 The March 31, 2018 Blue Moon, or second Full Moon this month, is the second one of the year. Theoretically there should be a quadruple build of enchanted lunar energies.  Especially since the last Blue Moon on January 31, 2018 was a Super Blue Blood Moon Eclipse! Fortunately, there was a magical void that dampened it when February had no full Moon. Still the Blue Moon should bring great supernatural chaos. Especially when it comes to Werewolves who become twice as dangerous in strength and aggressive need to devour humans whole!
Thankfully, this Moon has absorbed the lucky energy of Saint Patrick's Day along with being considered a rare Easter Fool's Moon. This due to its close proximity to Easter that happens to fall on April Fool's Day. The Easter Fool's Moon is full of sweet joviality as the Easter Bunny and April Fool come together in fun filled unity. Since the Spirit of Leprechaun Luck, Easter enchantment, and April Tomfoolery flow strong in this Moon we should see very little paranormal activity. That includes ghosts and poltergeists! Although the spells of good witches, and righteous supernatural beings will find these lunar energies beneficial.
Despite this unusually peaceful Blue Moon we will still see younger Werewolves transform while older ones will be able to resist. Those that do transform will be rather timid and may ironically only seek out small prey like bunnies. Hopefully not the Easter Bunny! If you come across a Werewolf we still urge you exercise extreme caution and be prepared to defend yourself with Werewolf repellents such as holy water, wolfsbane, and silver. Any sudden movements or erratic behavior on your part could spell your demise. Stay safe and enjoy the marvelous Moon amid this joyous April Easter Fool's Season!