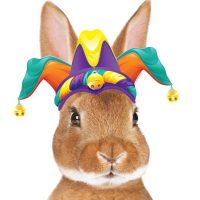 This year we have the rare convergence of Easter and April Fools Day on April 1, 2018. The two Leaders of these holidays have decided to work together to supernaturally strengthen both their hallowed holidays. Something kind of amazing considering the mischievous pranking nature of The April Fool. Both him and the Werehare Easter Bunny are melding their holidays into one enchanted entity. The Spirit Of Easter & April Fool's will create a combined Spirit Of Joviality. The Easter Bunny will incorporate good humored jokes and pranks into his gifts of colored eggs and candy. The fun filled Fool will make his jocularity more Easter themed. We get the feeling a lot of people are going to be egged or get the gift of rotten eggs! Perhaps even a horde of crazy rabbits will be let loose in buildings!
Certainly except the unexpected on this most momentous of Easter Fool's Days! And of course laugh at yourself if pranked to keep things positive and fuel the holiday spirits for the forces of righteousness. In addition, when performing a prank on someone be sure to do it in a lighthearted way without your intent being full of malice! If not then you only weaken the holiday spirit and give power to the forces of evil.  Not to mention the bad karma for yourself!
This whimsical duo will bolster enough holiday power to effectively destroy the April 2nd April Anti-Fool's Day. A holiday promoted by the forces of darkness that delves into dangerous destructive pranks! It's been reported the Anti-Fool is already hiding like the coward that he is! Clearly the additional power of Easter was too overwhelming for him! So it seems the month of April will be blessed. Especially with the additional metaphysical energy of the enchanted Easter Fool's Moon that suppressed many a Werewolf transformation. Happy Easter Fool's Day To All! May Your Eggs And Jokes Bring You Joy!
Read Past Easter, April Fools, And Anti-Fools Paranormal Activity Forecasts.
Celebrate April Easter Fool's Day With Nasty Fart Spray Daringly Dispersed Among Your Easter Eggs! LOL!