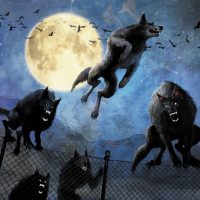 When it comes to Werewolves the Full Moon of January may be the most dangerous lunar light of the year! Plausibly second only to the Halloween Blood Moon. The metaphysical energies of this wayward Moon compel all Werewolves to draw together into vicious rabid packs. It even implores them to not only leave regular wolves alone but to welcome them into the new pack of malevolent monsters! A terrifying gang of animals hell bent on devouring just about every animal in sight. Particularly human beings! This unholy kinship is why the January Moon is almost exclusively known as the Wolf Moon. Normally Werewolves are thankfully loners. It's rare to form organized packs. However paranormal packs are common among Native Americans. The first to make the Werewolf curse their own.  The few with the spiritual guidance to control their transformations, and remain at least somewhat self-aware while in the form of a hairy horror.
We seriously suggest you stay indoors during the next few nights when the Moon is at it's brightest. If you must venture out be sure to steer clear of desolate rural areas, and wear bright reflective clothing. Even a flashlight can confuse them long enough for you to
make an
escape. If you make the smart decision to stay home you should adorn it with silver, and Wolfsbane since the Wolf Moon will cause a threefold urge to eat you! Also have silver implements, and holy water handy. Having blessed waters ready for action in a Super Soaker is probably the simplest thing anyone can do to protect themselves from the monstrous mayhem of the night!  Collect the wondrous waters down at your local church or bring a jug in for a Priest to bless. Holy artifacts in general will wield some level of repellent effect since Werewolves possess demonic DNA.  Stay safe, and pray to nature deities for protection throughout the duration of the Wolf Moon.