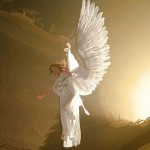 Hallowmas, aka All Saints Day, is afoot! It's a day of rest after the horrifying havoc of Halloween's metaphysical manifestations. After the number one night of damned darkness the non-intervention edict of Heaven is lifted, and saintly Angels descend to clean up a variety of supernatural messes. This especially includes violations of the Supernatural Secrecy Pact. Many those of us in the paranormal crime fighting game couldn't get to or were unable to handle. With the holy Angels are a cavalcade of ascended human Saints as well. Even the living Saint Nicholas, aka Santa Claus, gets in on the metaphysical action!
All Saints Day is also a way to bring balance to the world since evil often tips the scales on Halloween. The holy Angels presence will be felt by all manner of beings both beautiful and blasphemous! Most monsters of malevolence who will lie low until tomorrow's All Souls Day Of The Dead! Even during the Witching, and Devil's hours which are more or less rendered harmless. Something similarly seen on Christmas.
On All Saints Day humans will feel happier and more secure due to their own Guardian Angels feeling gleeful over their Heavenly brothers and sisters floating about. Some will feel the Angelic souls of fallen family and friends among them as well. Those practicing Enochian Angel Magic will be at the apex of their power on Hallowmas. The day and night should also be mostly free of zombies, and other living dead menaces. Many ghosts will be guided to Heaven. In addition poltergeists, demons, and other dark spirits will be driven into the Underworld. Enjoy the enchantment of hallowed Hallowmas!