In the book, and television series Outlander Claire Randall, a WW II combat nurse, visits a fictional prehistoric stone monument circle near Inverness, Scotland in 1945 called Craigh na Dun. Upon touching, or mystically walking through one of the monolith stones she finds herself transported to the year 1743 to live out her destiny. It's later revealed that others have traveled via the stones, and that the best time to do so is on the various Celtic Druid seasonal holidays known to us as The Wheel Of The Year. Apparently in the Outlander reality the people who happen into the temporal portals at the right time are destined by fate to fulfill a purpose in the past. They're acts in the past are essential to the future whether they know it or not. Despite efforts to change the past there appears to be no way to fulfill their personal mission. Instead they are the instruments of fate meant to cause the future as they know it.
In our own reality there are various paranormal hot spots, that include Earth's Chakra's, and Vortices, which are whirlwinds
of electromagnetic, and metaphysical energy caused by a variety of natural, and paranormal factors.  These can be caused by the Earth itself having a soul, known as Goddess Gaia, the physical planet acting as a crystal of minerals, and water, mystical & undiscovered scientific connections with celestial bodies such as the Milky Way Galaxy along with a plethora of other perplexing phenomenon in our infinite Universe we have yet to fully comprehend.  Particularly powerful supernatural spots were discovered by special groups of ancients who were in tune with nature, and higher dimensional deities. They created stone monuments, especially stone circles, to amplify the powers of the metaphysical energy centers that were at their peak during the holidays marking the seasons. Particularly the Summer, and Winter Solstices along with the Vernal & Autumnal Equinoxes.  Times of geometrically significant energy focusing planetary alignments.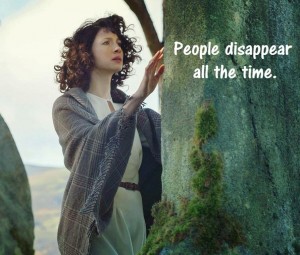 The most famous of these enchanted energy zones is of course Stonehenge in England. These ancients, usually Witches or Druids, went further to perform rituals paying homage to Celestial Events, Mother Nature, and the Gods & Goddesses to access the maximum amount of power, and wisdom from the Universe. It is true that these paranormal places can do various amazing things whether a monument exists on it or not. It depends on whether the right person knows how to access the power, or the person is fated to do so even without any mystical knowledge. One of these powers is time travel courtesy of warped space-time, wormholes to various points in time, and other temporal transport phenomenon.
People like Claire Randall actually do exist! Those fated to play a role in history that would not normally be fulfilled by the people who already exist there. Our great Multiverse plays out all mathematical probabilities, and having people travel through time is one of them. Naturally there are those who aren't fated to travel through time in order to play a key role in shaping future history. Especially in the distant future when time travel technology becomes common place. Temporal travelers such as that end up in near identical parallel Universes, and never end up altering their Universe of origin. So next time you find yourself feeling energized near a stone monument that feels as if it's calling out to you prepare to travel through time!
Watch Outlander Online
Audio-Visual Version Of This Article:

Related articles