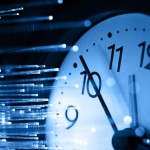 For instance if I travel 8 minutes into the past or future is there an equivalent travel distance through space? Yes there is actually, and it coincides with the speed of light which is speed limit of the Universe.  We used 8 minutes since that's roughly the time it takes for sunlight to reach Earth.  The sun being an average distance of 93 million miles from Earth.  So traveling eight minutes into the future is like moving 93 million miles.  Clearly this is why achieving time travel won't be an easy task for humankind.   It will require a great deal of energy for the process to be done in an expedient manner.  Currently we already walk into the future one day at a time.  The faster we move toward light speed the quicker we move into the future.  Now that you know this realize that you will travel trillions of temporal miles in your lifetime even if you barely leave your hometown.  Certainly far greater than the 110,000 miles the average person will walk if they live to age 80.  Then again if we count our travels around the sun in a lifetime we may travel 46,723,036,800 billion miles. Of course there's still our movement around the Milky Way, and through the Universe over the 4-D space-time expanse that equals millions of miles per hour being clocked by us! Time itself is actually our movement across a four dimensional surface.  Time is always the indirect observed movement over the next higher dimensional surface.  So all dimensions have time, and sequence of events.
Traveling to the past is twice as difficult as traveling to the future since it requires traveling faster than light speed which isn't theoretically possible  for matter within 4-D space-time.  However such things as creating a 5-D space bubble around a future space ship would allow for FTL travel.  If this method of time travel was employed then traveling 8 minutes into the past would be like walking 186 million miles.  Certainly no easy task to revisit the past.
Despite humanity as a whole not achieving time travel there are government experiments underway in top secret labs around the world.  Some say that superpowers such as the United States, Russia, and China have already achieved time travel and may have used it to help their rise to power.  They may even be involved in a temporal cold war.  Although the time travel would have only been used for the collection of beneficial information since traveling through time only sends you to a near identical parallel Universe.  Only in rare cases of destiny does one actually travel back in time within the timeline of their own Universe.  In such cases nothing changes as it was already apart of history.  All time travel including our daily walks though each day yield five dimensional travel to near identical parallel realities.  Probes or people may travel to the past or future but it's difficult to return to the exact Universe of origin.  If not then the people sending the time travelers, or probes, will find them only disappearing without a trace.
There are also inventive private individuals who have achieved personal time travel through ingenious mad science along with those who wield magic in the world of the supernatural.  One such person is my brother Michael Remington, whose currently lost in time somewhere.  This could be due to the difficulty of returning to ones timeline of origin. Michael's time travel device, called the Quantum Resonance Flux Accelerator, uses unique sound wave frequencies that interact with his bodies sub-atomic structure at the quantum level.  It vibrates his quantum particles to nearly the speed of light so that he may travel into the future and it also vibrates them at faster than light speeds so he may travel to the past as well.  The further he travels the longer the process takes, and the more energy he utilizes.  We pray for Michael's safe return to the present of our timeline.
Related articles