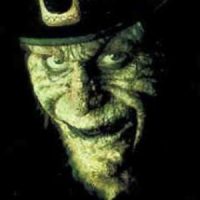 Friday The 13th is already a day when bad luck flourishes in the spirit mind of the human collective consciousness.  However since this is the second Friday The 13th in a row, courtesy of February's Thirteenth Day, we will now be seeing the rare phenomenon of Double Dark Luck.  This despite us being in the midst of The 7 Lucky Leprechaun Days Of Saint Patrick.  We have the normal influx of Clurichauns, aka Anti-Leprechauns, looking to thwart their Leprechaun cousins spreading of good luck & cheer.  However now they have rallied around this especially nasty Friday The 13th making it their temporary holiday power base.  Any force of good, or evil with a holiday is indeed a force to be reckoned with!  Thankfully most of our holidays are controlled by the forces of good.  That's why our planet isn't a total Hell on Earth!
As Clurichauns go about their business of stealing Leprechaun gold, and marshaling the forces of dark Friday The 13th luck they will also make contact with humans in an attempt to contract sinister deals with diabolical consequences.  Somewhat like making a deal with a Demon except it's based on luck.  Indeed Clurichauns can inflict straight bad luck on people but they also have fun, and earn more power through corrupting humans by a persons own will.  For instance if you want to be a rock star they can utilize a Leprechauns stolen gold to temporarily wield good luck so a series of steps take place allowing you to achieve that dream.  However along the way other aspects of your life will slowly fly south, and as you live your Rock And Roll dream things will quickly grow darker in your life.  Generally a tragic early death is met.  Often the last thing a person sees is the snickering Dark Leprechaun of doom standing over them!  Be aware that Clurichauns with enough power can create a magical optical illusion so they appear as a normal sized human rather than a grotesque little green goblin.
In addition we have a high level of solar X-Ray activity which always increases metaphysical spiritual activity on Earth.  This power source combined with the dark energy of human fears will further increase potential ghost, poltergeist, and demonic hauntings in the normal places they occur.
On a good note Mystic Investigations recent defeat of the notorious Friday The 13th Demon Specter means this Friday The 13th will be devoid of this wretched entity of evil!  Stay safe, and keep your lucky charms on you at all times!  Also if you're in deep danger you can attempt to summon a Leprechaun with a special magical spell. However running in the other direction is always the best policy!
Related articles across the web