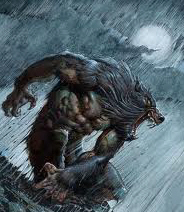 With the Storm Moon of March at 99% illumination you can expect numerous Werewolf sightings.  In fact many have been reported thus far.  Especially in places hit by thunder or snow storms.  During March storms the Lycanthropes will display increased aggression.  Luckily the fatalities, and injuries are at a minimum thanks literally to luck. The luck of Irish Leprechauns spreading around the world for their yearly St.Patrick's Day homage.  There's at least one report of a direct encounter between a Leprechaun, and Werewolf observed.  In a small town near Pittsburgh, PA a wicked wolf lunged at the diminutive fellow who then waved his Shillelagh in one hand while gripping a glowing gold coin in the other.  The Werewolf was turned into a harmless wolf puppy in a flash of rainbow colored light.  The animal then scurried away into the cold night whimpering.
Another incident happened during a snow storm near Milwaukee, WI in which a Yeti was spotted coming face to face with a rabid mad dog Lycanthrope.  The epic battle of blood, fur, and snarls waged on for approximately 3 minutes before they finally reached a stalemate.  The Yeti probably decided to leave since the snow was clearing up, and it had to move on as it made it's way back up the Arctic circle.  He took a huge leap, and flew over the trees out of sight into the night.
During March you have the only time of year you can repel Werewolves with lucky charms.  Although carrying a bag of Shamrock is the best as attracting Leprechaun luck, and repelling Werewolves.  It also works wonders on the evil Irish cousins of the little people known as Clurichauns.
Refer to past Werewolf Warnings for various repellent, and eradication measures.