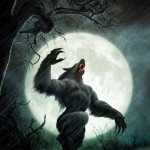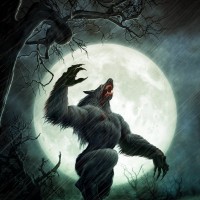 September brings us the full moon closest to the Atumnal Equinox.  The infamous Harvest Moon which is known for appearing big and bright in the sky thanks to it's low position and the optical illusion of the atmosphere.  This brighter moon causes increased power in werewolves although usually not increased evil aggression which is what the Blood Moon of October provides thanks to the horrific power of Halloween.
However the Harvest Moon increases the risk of humans running across werewolves which heightens their blood and flesh lust as they are drawn to the human origins the transform from.  Werewolves have an urge to leave their normal haunting grounds in the woods and make their way to farm fields where they prowl about howling loudly at the moon.  This places farmers in danger because they use the bright harvest moon to continue working the fields at night.  In addition Werewolves will be more frequently found crossing roadways and backyards to make their way to the fields.
Exercise caution when driving at night.  If you hit an animal assume it's a werewolf and floor it because getting hit by an automobile won't stop these hairy horrors.  Be advised they can run up to 66 mph. Sometimes faster during Super Moon's.  So don't be shy about approaching 80 mph or so just to be safe.  We also recommend staying away from farm fields, pumpkin patches, and open fields with large power lines as werewolves are drawn to electrical radiation.
If you spot a werewolf in a field or your backyard then call your local paranormal investigations firm or a professional werewolf hunter.  All of which you can find in your local yellow pages.  In addition we pray for the safety of our hard working men and women in the agricultural community.  God bless your hard work and harvest this werewolf season!
This warning is in effect for as long as the moon is at 80% full which is the minimum moonlight needed to induce werewolf transformation in Lycanthropic humans.