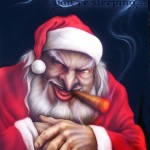 An Anti-Claus warning is in effect due to today, December 26th, being Dark Christmas.  Sometimes called Black Christmas or even Anti-Christmas.  Beginning at midnight the Anti-Claus makes his rounds visiting the evil to give them the gift of powers or evil wishes as a way of thanking them for the evil they perpetrate on his behalf.  There's no need for them to even believe in him.  He will simply show up at the home of anyone he feels is evil enough to deserve his presence.
He can be seen flying about the skies in a black sleigh powered by 13 magical  flying werewolves.  The Anti-Claus also works to undue Christmas by wreaking mayhem in many ways and stealing the gifts Santa delivered the day before.  We recommend staying indoors with your family until December 27th.  In order to ward off the Anti-Claus make sure you have adequate outdoor Christmas decorations which he loathes.  All natural evergreen Christmas wreaths hanging outside each outside door along with mistletoe hanging on the inside will magically ward off the Anti-Claus.  Make sure you have yule logs burning in your fireplace all day and through the night as well.
Having a big well decorated Christmas tree is the most powerful deterrent against this filthy fiend and his hellish minions.  This is especially important if everyone in your house isn't exactly pure of heart.  He only rewards the truly evil individuals.  Anyone who falls short is easy prey for him especially if they are torn by the morality of things they have done.  Santa and various forces of evil are out in full force working to stop his evil including his coven of 13 witches.
If you spot the Anti-Christ contact your local supernatural investigations firm as he is a physically and magically powerful demi-demon with powers almost near that of the Anti-Christ.  If you come face to face with him you can ward him off with mistletoe, a Holy Bible, a cross, or even just singing Christmas carols if you have nothing else handy.